After all transactions have been posted from the journal to the ledger, a Trial Balance is prepared to check the arithmetical accuracy of the ledger accounts. It is a statement prepared to ensure that journal and ledger postings are done correctly so that closing balances can be considered for preparing the final accounts and other financial statements.
A trial balance serves as a foundation for preparing various other financial statements such as Trading & Profit and loss account, Balance sheet etc.
If the total of the debit and credit amount columns of the trial balance are equal, it is assumed that the posting to the ledger in terms of debit and credit amounts is accurate. A trial balance is usually prepared by a concern on the closing date of the accounting year.
OBJECTIVES OF TRIAL BALANCE
A trial balance usually serves the following purposes :-
To ascertain the arithmetical accuracy of ledger accounts
An organization needs to know profit or loss and financial position at year end. And thus to prepare financial statements, Trial Balance is required.
Banks and lending agencies rely upon the trial balance to know the borrowing capacity of a concern.
It also helps in making the necessary adjusting entries to the general ledger.
FORMAT OF TRIAL BALANCE :-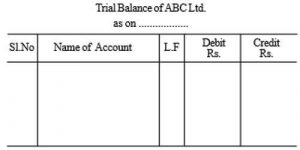 METHODS OF PREPARING TRIAL BALANCE
Basically, there are three methods of preparing trial balance listed below :-
TOTAL METHOD :- Otherwise called Gross trial balance method, under this method all the ledger accounts are totalled and the total of both debit and credit side is carried forward to the trial balance.
BALANCE METHOD:- According to this method, only balance of each account of ledger is recorded in trial balance. Some accounts may have debit balance and the other may have credit balance. All these debit and credit balances are recorded in it. This method is widely used.
TOTAL & BALANCE METHOD :- This method is the combination of the above two methods and is also referred as compound method.
LIMITATIONS OF TRIAL BALANCE
Trial balance can be used only in those concerns which follow Double entry system of accounting which is very costly.
There are a number of errors which are not disclosed by trial balance like errors of omission, errors of original entry etc, Hence , it can not be relied upon completely.
All other financial statements like balance sheet, profit & loss account are based upon the trial balance. Hence if the trial balance is wrong, these statements will also be inaccurate.
Thus, in simple words a Trial balance is a statement prepared with the balances or total of debits and credits of all the accounts in the ledger to test the arithmetical accuracy of the ledger accounts.