CAIIB is said to be one of the difficult courses to be cleared for the bankers. But we assure you that with the help of our video study course for CAIIB 2019, you can definitely clear Advance Bank Management (ABM) and Bank Financial Management (BFM) exam for sure. We have covered full syllabus for CAIIB ABM and BFM both chapter wise and module wise. And this will make it very easy for you to understand the very best of concepts of both the exams in detail for upcoming caiib exam.
Language used in videos is Hindi Mix English. (Terms used are in english but description in Hindi)
CAIIB ABM - Advanced Bank Management Syllabus Priority
Check Here
————————————————————-
Bank Financial Management - BFM Syllabus Priority
Check Here
————————————————————-
110+ CAIIB Case Study Videos
Check here
————————————————————-
ABM BFM Retail Previous Year Questions
Get Tests Here
————————————————————-
Full Course Videos in Hindi English
Check Here
Course Duration:
Advance Bank Management : 22 Hours 24 Minutes
Bank Finance Management : 23 Hours 16 Minutes
Validity: 1 Year (From the date of Subscription)
ALL Chapters covered in the Papers of CAIIB are as per McMillan Book and iibf syllabus. We provide frequent updates in the videos section so as to be as per latest guidelines available.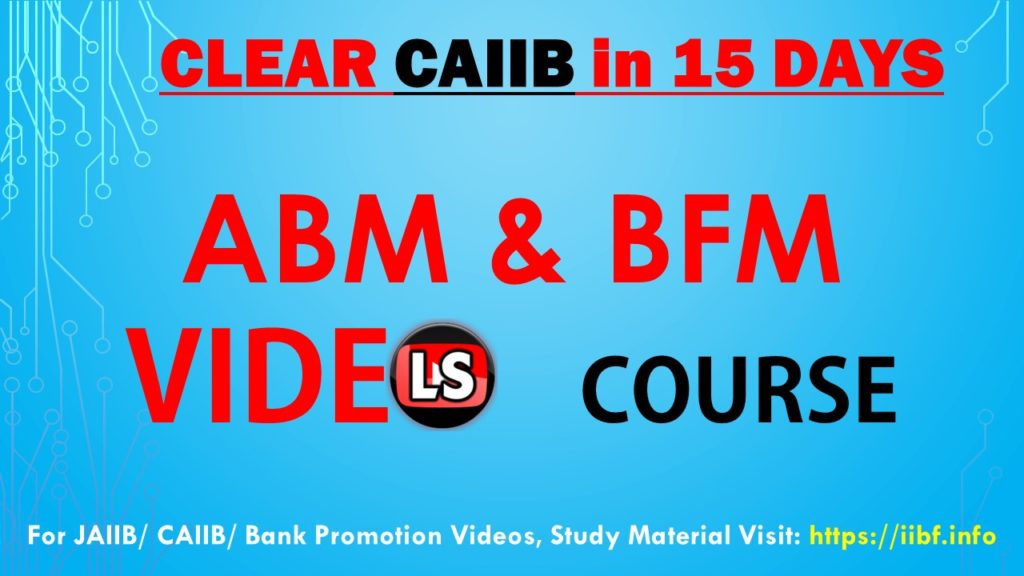 How You will get Study Material?
The video classes will be available online only (you can stream the videos 24 x 7) when you are subscribed. You can stream the videos online at our website https://iibf.info or http://caiib.learningsessions.in using your login credentials (Registered Email ID and Password).
Price:
Please check schemes/offers available on https://iibf.info for latest price of the CAIIB videos pack available.
Why us?
We are already serving more than 1,15,000+ bank candidates on our online study portals with very satisfactory result and response from our candidates.
Salient Features:
1. You can watch videos any number of times for revision
2. Save traveling and Lodging cost.
3. Providing classes at your home place.
4. Clear all your doubts one on one with faculties by contacting us or mailing us your doubts.
Also See: