7 DAYS STRATEGY TO PASS CAIIB ABM EXAM 2023
IIBFs' Exam of CAIIB is considered to be the hardest nut to crack. And why won't it be – when it gives the opportunity to the bankers 2 increments at once. Any sane person can recognise the advantage of clearing this CAIIB Exam. And to help the CAIIB aspirants crack their CAIIB JUNE 2023 Exams, we have come up with the Strategy to clear the ABM paper of CAIIB 2022.
And it has become more important now than ever to crack the ABM & other CAIIB papers because the other option is much harder!
We believe that you believe that you can do it.
If not you then who?
So, be excited & take this chance as a thrilling challenge & pass the sea of CAIIB now to the ocean of opportunities! 
In this article, candidates preparing for CAIIB ABM Exam 2022 will know what exactly they need to do so that they can clear their June CAIIB 2022 Exams in this very attempt. We, herein, provide you with the important topics based on the repetitions in past examinations of ABM papers along with the marks/weightage that you can score from those particular topics.
So, Are you ready to crack CAIIB?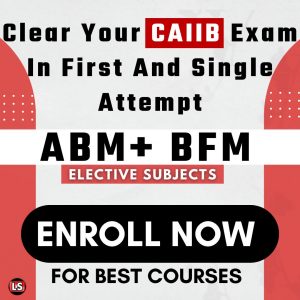 THINGS THAT NEED TO BE COVERED TO CRACK CAIIB JUNE EXAM 2023
Just take a look at the below given IIBF CAIIB 2022 topics as a must-read. These are the ones which you have to have done and cannot skip past before you sit in the examination center. And we assure you if you go through the mentioned Advanced Banks Management topics then, you can even score a 50-60 out of 100 from your ABM paper in just 7 days of preparation!
If we take a bird's eye view, then we can easily enlist the ABM Module from the latest CAIIB Syllabus 2023 which you need to cover on a prior basis:
MODULE – A: Economic Analysis
MODULE – B: Business Mathematics
MODULE – D: Credit Management
Wait, as you can see that the modules listed above are in serial, therefore, we would like to mention that the candidates are free to prepare the modules as per their own preference. This is because of the fact that the 4 modules have almost equal weightage. So, in the limited period of time that you have got for preparation, you can prepare 3 modules out of 4. 
As the ABM paper ranges between theory & practical problems, the candidates can skip 1 module, whose topics they find a little difficult to go through.
Now after you have understood how you need to select the Modules, you can take a look at the below ABM topics for CAIIB EXAM 2023 which have been enlisted in the paras along with their marks weightage:
IMPORTANT TOPICS FROM CAIIB ABM LATEST SYLLABUS MODULE-A
Economic Analysis weighs around 20 to 25 marks. It's a mix of theoretical concepts and practical problems. If you really want to pass your ABM paper of 2022 then you must at least give a read of the below topics.
MODULE – A
UNIT NAMES
MARKS 

Fundamentals of Economics

1-2

Supply & Demand

[graph & elasticity, effect, reasons]

1-2

2-3 (Numerical)

Money Supply & Inflation

[index, inflation, M1, M2, M3, M4]

1-2

5 (Numerical)

Theory of Interest

1-3

Business Cycle

[reason, effect]

1-2

Monetary Policy 

[rates, common topics]

1-2

GDP

[measurement]

1-2

5 (Numerical)

Budget

1-2

5 (Numerical)
Indian Economy

Economic Reforms

Challenges

1-5 (only from news updates, if you keep an eye on it)
IMPORTANT TOPICS FROM CAIIB ABM LATEST SYLLABUS MODULE-B
Business Mathematics is also scoring but being a practical module, you have to decide beforehand whether you should cover this module or not. Although, if you decide to prepare topics from the mathematics module, you can get 25 to 35 marks. The most important topics are given below:
MODULE B
UNIT NAMES
MARKS

Time Value of Money

1-2

5 (Numerical)

Bond Investment

1-2

5 (Numerical)

Sampling Method 

[types, probability]

Estimation

[error, UCL, LCL, Definitions, Multiplier, Proportion]

1-5

5-8 (Numerical)

Correlation/Regression

[only if you have studied statistics]

2

4 (Numerical)

Time Series

2

5 (Numerical)

Linear Programming

2

5 (Numerical)

Simulation

[if spare, then prepare for numerical)

2

5 (Numerical)
IMPORTANT TOPICS FROM CAIIB ABM LATEST SYLLABUS MODULE-C
HRM in Banks. This module can also get you 25-30 marks from the below-given topics or concepts. The ABM Question paper could have 10 to 12 questions from this module for 1-mark each.
Some questions on case studies carrying 3 marks can also come from this module.
MODULE – C
UNIT NAMES
MARKS

Feedback/Review

Case-studies

Performance Management

HRM-IT

10-12

Fundamentals

Developments

Human Implications
IMPORTANT TOPICS FROM CAIIB ABM LATEST SYLLABUS MODULE-D
 Credit Management gets you 15 to 20 marks if you prepare the below-mentioned concepts. You can decide either to prepare the theory part of the below topics or the numerical part as per your preference or availability of time.
MODULE – E
UNIT NAMES
MARKS

Ratio

1-2

5 (Numerical)

Working Capital

1-2

5 (Numerical)

Risk

[NPA]

5 (Numerical)

Overview

Financial Statement

Working Capital

Term Loan

[Priority Sector]

Delivery

Control & Monitoring

Risk

Restructuring/Rehabilitation
https://www.youtube.com/watch?v=k9h9izWfG3s
LATEST IIBF CAIIB ABM STUDY MATERIAL | EXAM JUNE 2023
You can understand that having good study material will enhance your preparation as per the above strategy. And you can easily prepare the ABM paper with the Learning Session Material. 
This material is in video format with the chapter-wise arrangement & if you want to follow the above strategy for ABM, then this is the right material. You can even increase the playback speed by up to 2 times. That will also save a lot of your time. 
Full ABM Video Course 2023 – (Chapter-wise)

Previous year questions from past ABM papers 2023

Mocks (Questions)

CAIIB Epdf Notes

Video Playback Speed increase up to 2 times

IIBF prescribed Syllabus

Most Reasonable Prices
Here is also the link to the Hindi & English Course of All Paper of CAIIB (ABM, BFM & Retail) for 2023 Exams.
Access the IIBF CAIIB courses 2023 through:
Android App: LS PRO or IIBF LEARNING CENTER
iOS App: My Institute App (Code: gegkt)
GET IN TOUCH WITH US
To get offers on the CAIIB's advanced bank management, bank financial management, Information technology, Risk management, retail banking & human resource management papers as well as other IIBF Certification Exam papers, you can talk to us on our Whatsapp No.: 8360944207
Or you can also directly visit the website for Exam Materials: iibf.info
For regular banking related updates & free updates you can also join us on:
All the Best for your upcoming IIBF CAIIB Exams!
Team: Learning Sessions
Also Like: