CAIIB NOV / DEC EXAM NEW SYLLABUS & LATEST STUDY MATERIAL 2022
CAIIB NOV / DEC 2022 EXAM NOTIFICATION
The CAIIB November or December dates for registration as well as exams have been declared by the Institute. The first exam of CAIIB, compulsory exam, ABM is going to start from 27th of November 2022. You can check out the details of CAIIB in the following paras.
CAIIB EXAM 2022
The Certified Associate of Indian Institute of Bankers (CAIIB) is one of the main exams conducted by the Indian Institute of Banking and Finance (IIBF) every year biannually i.e in the month of June and December. This CAIIB Exam 2022 is only applicable to the ordinary members of the institute and aims to check the advanced ways of decision-making and general banking management.
CAIIB ABM - Advanced Bank Management Syllabus Priority
Check Here
————————————————————-
Bank Financial Management - BFM Syllabus Priority
Check Here
————————————————————-
110+ CAIIB Case Study Videos
Check here
————————————————————-
ABM BFM Retail Previous Year Questions
Get Tests Here
————————————————————-
Full Course Videos in Hindi English
Check Here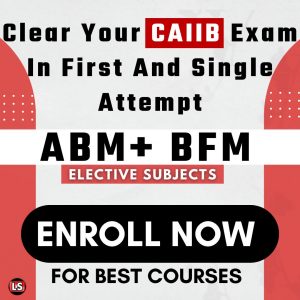 The CAIIB exam aspirants mainly include the employees of RBI, SIDBI, NABARD, RRB-Regional Rural Banks, Cooperative banks, and commercial banks, etc.
Qualifying this exam of CAIIB can help the members of IIBF get benefits such as incentives, increments in salary, and promotions in their positions etc.
The CAIIB exam 2022 which are scheduled to be held in November & December 2022 are notified by the IIBF. You can see the IIBF has updated the dates for registration & exams for the CAIIB exam on the official website i.e www.iibf.org.in.
Read Also:- CAIIB EXAM DATE 2022
The declared dates for NOV / DEC CAIIB exam 2022 are listed as :
| | | |
| --- | --- | --- |
| SUBJECT | SCHEDULED DATE | REGISTRATION DATES |
| Advanced Bank Management (ABM) | 27-11-2022 | START: 30th September 2022 |
| Bank Financial Management (BFM) | 04-12-2022 | |
| CAIIB Elective Subjects | 10-12-2022 | END: 20th October 2022 |
***The time of the exam will be mentioned on the admit letter.
STUDY MATERIAL FOR NOV / DEC CAIIB EXAM 2022
Mock tests for Principles & Practices of Banking, Accounting & Finance, Legal Aspects, Advanced Bank Management, Bank Financial Management, Retail Banking, Human Resources, International banking, and all optional subjects of CAIIB are also available.
Free- Mock Tests, Sample Papers, Study Materials Website for JAIIB, CAIIB, DBF are also available.
Download JAIIB CAIIB Study Material:- Click Here
What we offer in CAIIB:-
Full video course of CAIIB (chapter-wise)
English + Hindi Language or English Language only
Latest and updated CASE STUDY VIDEOS
Chapterwise Questions
Memory Recalled Questions
Tests for CAIIB 2022:
Chapter-wise Tests
Mock Test Papers
Compete Tests
FOR LATEST CAIIB STUDY MATERIAL VISIT: CLICK HERE
NOV / DEC CAIIB EXAM 2022 LATEST NEW SYLLABUS
The syllabus for the CAIIB exam is prescribed by IIBF. The syllabus includes 2 compulsory papers and any one of the 06 elective subjects as an elective paper of CAIIB.
The Compulsory subjects of CAIIB include :
Advanced Bank Management (ABM)
Bank Financial Management (BFM)
Apart from the above 2 compulsory subjects, the candidates have the option to choose 1 subject from the elective subjects available, namely-
Read Also:- How to Clear CAIIB in One Attempt ??
Retail Banking
Information Technology
Central Banking
Read Also:- IIBF CAIIB EXAM Admit Card 2022
***There is no exemption in any of the subjects for prior qualification.
DETAILED SYLLABUS OF CAIIB LATEST EXAMS 2022
The detailed syllabus and modules covered in the exam of CAIIB that is applicable for the November 2022 papers are listed in the table below:-
CAIIB SUBJECTS 2022
MODULES
Advanced Bank Management (ABM)
Module A: Economic Analysis

Module B: Business Mathematics

Module C: HRM in Banks

Module D: Credit Management

Bank Financial Management (BFM)
Module A: International Banking

Module B: Risk Management

Module C: Treasury Management

Module D: Balance Sheet Management

CAIIB ELECTIVES 2022
Rural Banking
Module A: Rural India

Module B: Financing Rural Development

Module C: Priority Sector Financing and Government Initiatives

Module D: Problems and Prospectus in Rural Banking

Retail Banking
Module A: Introduction

Module B: Retail Products

Module C: Marketing/Selling of retail products, MIS and Accounting

Module D: Other Issues Related to Retail Banking

Human Resource Management
Module A: Human Resource Management

Module B: Building an HR Strategy

Module C: Motivation, Training and Skill Development

Module D: Personnel Management and Industrial Relations

Information Technology
Module A: Introduction to Information Technology

Module B: Systems and Design

Module C: Applications in Banking

Module D: Security Control and Guidelines

Risk Management
Module A: An Overview

Module B: Credit Risk Management

Module C: Operational Banking

Module D: Market Risk

Module E: Risk Organization and Policy

Central Banking
Module A: Rationale and Functions of Central Bank

Module B: Central Banking in India

Module C: Monetary Policy and Credit Policy

Module D: Supervision and Financial Stability
Candidates can check the new and updated CAIIB 2022 syllabus here: Syllabus
You May Also Like:
CAIIB NOV / DEC EXAM PATTERN 2022
IIBF conducts the examinations of November or December in a prescribed pattern. The pattern has been detailed in the Syllabus & Rules Pdf that is available on the official website of IIBF.
We have given the same CAIIB Examination pattern applicable for CAIIB NOV Exams 2022 below:
The duration of the CAIIB Test 2022 is 2 Hours for each paper.
The total number of questions for the CAIIB Exam is 100 questions for 100 marks.
There is no negative marking for wrong answers.
The questions will be in the form of Multiple Choice (MCQs) or objective type including case study or case lets.
Both English and Hindi mediums are available for the candidates to appear for the CAIIB exam. The choice of the medium must be declared by the candidate at the time of applying for the CAIIB 2022 registration for November or December exams itself. In any case change of medium will not be allowed at a later stage.
The pattern of the questions of CAIIB Exams will be as follow :
Knowledge Testing
Conceptual Grasp
Analytical/Logical Exposition
Problem Solving
Case Analysis
Read Also:- CAIIB June 2021: Notification, Syllabus, Fee all details
CAIIB JUNE 2022 EXAM PASSING CRITERIA
Minimum marks for pass in every subject – 50 out of 100 marks.
The candidate can have 45 marks with an aggregate of 50% in all subjects, provided she or he obtains the marks in one attempt of CAIIB.
Candidates will be allowed to retain the credits of the subject they have passed (with 50 marks or above) in an attempt till the expiry of the time limit for passing the CAIIB examination.
The validity of passing the exam is 2 years from the date of CAIIB registration. If the candidate fails to qualify for the CAIIB exam within the specified time then he or she has to re-enroll for the CAIIB exam by registering again with a new Exam Application & paying the requisite fee.
CAIIB LATEST UPDATE:- CAIIB – INTRODUCTION OF REVISED SYLLABUS
You May Also Like:
Read Also JAIIB & CAIIB EXAM:- How to Apply for IIBF Membership, JAIIB CAIIB Exams Online
Also Like: