JAIIB LATEST SYLLABUS FOR MAY 2024 EXAMS
We are first gonna talk about JAIIB 2024. Then we will move our discussion to the JAIIB MAY Syllabus 2024 of 4 different subjects which come under the JAIIB exam MAY 2024. After discussing the syllabus we will talk about the Study material for IIBF JAIIB MAY 2024 which includes –
Video lectures
Mock test
Online classes
Epdfs
Memory recalled questions
Test series
JAIIB EXAM 2024
Only regular members of the Institute may apply for JAIIB, or Junior Associate of Indian Institute of Bankers, a flagship course. The JAIIB Exam MAY 2024 aims to deliver fundamental knowledge in banking and financial services, banking technology, customer service, fundamental accounting, and legal elements required for carrying out daily banking operations. The JAIIB MAY 2024 Exam offers the applicant advantages in both the personal and professional spheres.
You must be a banker to be aware of the JAIIB Exam, which is primarily given to bankers, and some of the advantages of passing it. You will be qualified to take the Exam of CAIIB subsequently, which will provide you another increment in advance, in addition to the benefit of One Increment of 1 Year.
The 4 modules that make up The Principles and Practices of Banking are:
General Banking Operations
Lending Operations of Banks
Support services,
Ethics in banks and financial institutions
Read Also: JAIIB EXAM PREPARATION 2024
BANKING TECHNOLOGY MODULE C
A Guide to Electronic Banking and Payment Systems for Banks
Overview of the Information Technology Act Preventive Vigilance in Electronic Banking The Role of Technology Upgrades and Their Impact on Banks Security Issues
EFT systems and data communication networks
ETHICS IN BANKS AND FINANCIAL INSTITUTIONS, MODULE D
Banking: An Integrated Perspective on Ethics, Business Ethics, and the Law
Employees' Ethical Dimensions
Changing Dynamics in Banking Ethics
Workplace Ethics and Ethics
Ethics on a Personal Level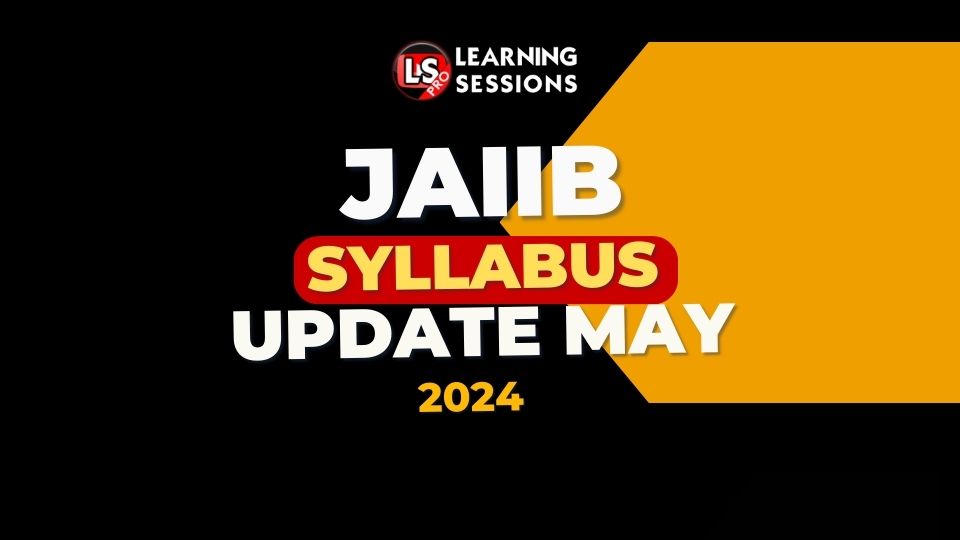 PAPER 3 – Accounting & Financial Management for Bankers
Accounting Principles and Processes,
Financial Statements and Core Banking Systems,
Financial Management,
Taxation and Fundamentals of Costing
PAPER 4 – Retail Banking & Wealth Management
Introduction to Retail Banking,
Retails Products and Recovery,
Support Services – Marketing of Banking Services / Products,
Wealth Management
JAIIB STUDY MATERIAL 2024
One of the main tests offered by IIBF is the JAIIB LATEST STUDY MATERIAL 2024 Exams for Junior Associates. You can get a special set of JAIIB study materials from Learning Sessions. The knowledgeable staff at Learning Sessions has produced the JAIIB Study Material for 2024. Since you are aware of how important it is to have the correct instruction and reliable sources for your JAIIB 2024 preparation, Learning Sessions has put together a selection of JAIIB Exams Study materials that is thorough enough to pass the exam in one sitting.
The library of learning sessions, comprises Mega Mock Exams, Recorded Video Lectures, Epdfs, and Online Live Classes.
EPDF JAIIB:
Following your viewing of the videos, EPFs are succinct and useful resources for reviewing the course material. Learning Activities On our Android application, JAIIB EPFs are only accessible as commentary for the video bundle.
IIBF 2024 JAIIB Test Series is also available.
Mock Test:
It's important to complete the self-assessment as you study for your examinations. Additionally, you can go through the Test series offered by Learning Sessions since IIBF does not administer Mock exams. There are more than 1500 questions accessible for you to answer, and once you do so, your confidence will undoubtedly grow.
Live Online JAIIB Classes:
All topics are covered in Learning Sessions Online Live Classes in accordance with the Institute's most recent & updated syllabus. To make the study more intelligible, the lectures are given in a bilingual style that combines Hindi and English.
JAIIB Video Training:
The JAIIB video courses offered by Learning Sessions are intended for candidates who lack the time to attend live classes. The two available languages for the video course (are multilingual) (English mix Hindi & English only). The Learning Sessions' video courses are created by subject-matter specialists with years of teaching expertise.
ACCESS TO COURSES:
Here is the direct link to Learning Sessions from where you can get website access, Whatsapp access, telegram access, Instagram & mobile app access: Premium Access
Also Like: