Introduction to Treasury Management
Treasury management is the planning, organising, and controlling of an organisation's holdings, finances, and working capital in order to optimise the way they are utilised, maintain the company's liquidity, lower their overall funding costs, and lower their exposure to both operational and financial risk. Corporate finance, currency management, working capital management, and financial risk management are all covered.
In other words, Treasury management involves overseeing all aspects of the organisation's financial operations, such as currency exchange, liquidity, and a variety of finance-related techniques.
CAIIB ABM - Advanced Bank Management Syllabus Priority
Check Here
————————————————————-
Bank Financial Management - BFM Syllabus Priority
Check Here
————————————————————-
110+ CAIIB Case Study Videos
Check here
————————————————————-
ABM BFM Retail Previous Year Questions
Get Tests Here
————————————————————-
Full Course Videos in Hindi English
Check Here
————————————————————-
ABFM and BRBL Courses now available
Click Here
CAIIB Crash course
You can also view the Important Concepts of Treasury Management on our youtube channel.
Key Goals of Treasury Management
To ensure that the business is equipped with sufficient free cash accessible during times of cash outflow is the primary goal of Treasury management. Additionally, it helps the organisation make better use of its available cash. In other terms, it suggests that a company shouldn't keep a sizable sum of cash on hand without using it. On the other hand, it needs to come up with fresh and practical methods to spend money in the money market.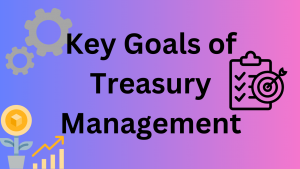 The following list of Treasury management functions is provided:
Competent cash management: This entails a well-thought-out collection and payment mechanism for the business.
Liquidity control: The business should maintain an ideal amount of liquidity. The business must be able to meet its responsibilities to pay suppliers, employees, creditors, and other parties as they fall due.
Optimal use of the available resources: To ensure the efficient use of the company's resources, lower operational expenses, and avoid future liquidity shortages are other goals of Treasury Management.
Risk management: One of the main goals of Treasury management is to control risk in terms of finances so that the company can pay its debts as they become due and maintain the expected performance of the company. It typically identifies, measures, analyses, and manages risk to prevent liabilities that could in any way impair the company's profitability and expansion. SFB Risk Management is an important part of this topic. Therefore, Treasury management is responsible for all risks that could have an impact on the company's entity.
Benefits of Treasury Management
Treasury management services provide firms a number of special advantages. The most significant advantage is time effectiveness. Businesses may speed up the payment process and spend less time on transaction approval and execution by putting in place a Treasury management system. Treasury management also allows some cost reductions. Businesses that have access to a variety of resources and techniques can quickly determine the cost of cross-bank transactions and exercise better control over other associated expenses. Having more control over these procedures also lessens the need for speculative financial planning, which lowers the risk of expensive mistakes.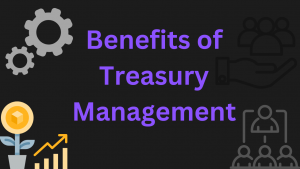 Few other benefits of Treasury Management are listed below:
Relationship Management: Managing the Treasury requires communication with banks, financial organisations, and other stakeholders. Organisations can negotiate advantageous terms, gain access to a wide range of financial goods and services, and benefit from their experience by managing partnerships with these entities well. The financial success of the organisation and future growth prospects are influenced by solid connections with financial allies.
Cost Savings: Efficient treasury management can save money by enhancing cash flow, lowering the cost of borrowing and maximising the utilisation of working capital.  Organisations can minimise the need for short-term funding by managing cash flow, which can lower interest rate risks. Additionally, by using treasury management, businesses may bargain with banks and other financial institutions for more advantageous conditions, which lowers costs associated with transactions and boosts overall financial effectiveness.
Better Decision-Making: Treasury management promotes sound decision-making by delivering exact and up-to-date financial data.  Organisations can examine finance decisions, analyse investment prospects and optimise their capital structures with its assistance. Management may make strategic decisions that support the objectives of the organisation and maximise shareholder value with better insight into the company's finances and achievement measures.
Treasury management, in short, gives businesses better control over their financial markets with decreased risk, superior decision-making, cost savings, compliance adherence, efficient operations, strategic planning, and relationship management. As a whole, these advantages support the business's expansion, achievement and economical security.
Treasury Management Pdf: Learning Sessions
Welcome to "Mastering Treasury Management," a comprehensive PDF manual created by Learning Sessions to give prospective individuals the information and skills necessary to succeed in the treasury management examination. This extensive resource explores the particulars of successfully managing an organisation's financial assets, investments and cash flows in an effort to give readers an established basis of understanding.
This PDF handbook equips users with the knowledge they need to make knowledgeable decisions, optimise cash flows, reduce risks and increase the value of the money belonging to an organisation.  This manual is your key for achievement in treasury management, whether you are a finance student, early-career professional, or an industry enthusiast.
| | | | | |
| --- | --- | --- | --- | --- |
| S.NO. | Paper | Module | Chapter | Action |
| 1 | Treasury Management | A | Financial Markets | Download |
| 2 | Treasury Management | A | Treasury | Download |
| 3 | Treasury Management | A | Scope and Functions of Treasury Management | Download |
| 4 | Treasury Management | B | Liquidity Management | Download |
| 5 | Treasury Management | B | Integrated Treasury | Download |
| 6 | Treasury Management | B | Treasury Instruments | Download |
You can also check the detailed videos of different subjects on Treasury Management by Learning Sessions below:
Why Learning Sessions?
It might be a helpful learning tool if you have access to a website or group that offers free treasury management notes. For those who are intrigued in learning more about treasury management, we here at Learning Sessions provide notes that are often created to offer comprehensive details on various elements of the discipline.
Here are some more potential reasons to choose Learning Sessions as your best buddy in your exam preparation:
Systematic Format: The notes provided by Learning Sessions are usually arranged in an organised manner to make it simpler for you to browse through the different components and find a particular piece of information. You can learn more methodically and concentrate on the topics that you find most interesting or difficult using this style. To provide a thorough knowledge of the material, the handwritten notes are likely to cover a broad spectrum of treasury management-related topics. This may cover conversations about, among other things, investments, markets for financial assets, management of risks, and regulatory compliance.
Study Questions and Exercises: The notes may include study questions, exercises or practise tasks relevant to the respective subject in order to strengthen learning. These interactive features let you check your comprehension, put ideas into practise, and monitor your development.
Straightforward Explanation: The notes are likely to give brief yet simple and understandable explanations of important terms, terminology, and treasury management principles. You can gain a solid understanding of the subject and the essential concepts by doing this.
Also Like: