CAIIB ABM SYLLABUS PRIORITY
As the papers of CAIIB are one of the toughest examinations of IIBF, candidates preparing for this exam must know the important & the most scoring topics of CAIIB's papers for the upcoming CAIIB Attempt. Having an understanding of the CAIIB Exam Priority for the ABM paper & other papers such as BFM & Electives from the entire prescribed CAIIB Syllabus 2023 helps greatly in passing the CAIIB Exam.
CAIIB EXAM 2023:
The Indian Institute of Finance & Bankers has posted the dates of the CAIIB Exams & the dates for registering for the CAIIB Exam 2023 on its official website. The exams are going to start on the 27th of November 2023. To check out all the details, you can click here.
CAIIB ABM - Advanced Bank Management Syllabus Priority
Check Here
————————————————————-
Bank Financial Management - BFM Syllabus Priority
Check Here
————————————————————-
110+ CAIIB Case Study Videos
Check here
————————————————————-
ABM BFM Retail Previous Year Questions
Get Tests Here
————————————————————-
Full Course Videos in Hindi English
Check Here
————————————————————-
ABFM and BRBL Courses now available
Click Here
CAIIB Crash course
CAIIB or Certified Associate of Indian Institute of Bankers (CAIIB) exam is conducted by the Indian Institute of Banking and Finance every year in two sessions i.e. in June & December for the already existing members of the institute to check the advanced ways of decision-making and general banking management. You can find the latest CAIIB registration date & CAIIB exam 2023 here. 
The CAIIB exam consists of 2 compulsory papers and one elective paper.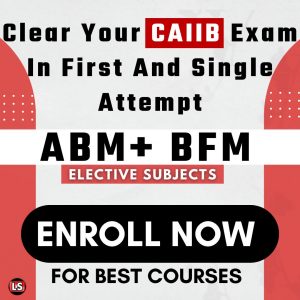 The compulsory subjects are –
There are 06 elective papers available out of which CAIIB candidates have to choose either of the following subjects:
READ MORE: WATCH OUR DAILY IIBF JAIIB/CAIIB LIVE CLASSES
CAIIB ADVANCED BANK MANAGEMENT 2023
ABM is the first compulsory exam in CAIIB 2023. ABM and BFM both are considered to be difficult papers in CAIIB 2023. The main reason for the same is that the topics which are covered in these 2 exams are not generally covered in general banking or do not come up in day-to-day banking activities. This subject has been divided into 4 modules, namely-
MODULE – A: Economic Analysis
MODULE – B: Business Mathematics
MODULE – C: HRM in banks
MODULE – D: Credit Management
ABM SYLLABUS PRIORITY 2023
There are 4 modules in the ABM Paper designed by IIBF. If you carefully observe all the modules & previous year's papers of ABM, you will realize that Module A & Module C are the most scoring modules in the ABM syllabus 2023.
The most important topics from each module are highlighted below:
Read Also:- CAIIB ABM NOTES 2023
| | |
| --- | --- |
| ABM MODULE | IMPORTANT TOPICS OF CAIIB ABM |
| Module A: Economic Analysis | Supply and Demand, Money Supply and Inflation, Business Cycles, GDP Concepts, and Union Budget. |
| Module B: Business Mathematics | Time Value of Money, Sampling Methods, Simulation, Bond Investment |
| Module C: HRM in banks | Development of Human Resources, Human Implications of Organisation, Performance Management, HR & IT |
| Module D: Credit Management | Overview of Credit Management, Analysis of Financial Statement, Working Capital Finance, Credit Control and Monitoring, Rehabilitation and Recovery. |
Important Topic:- ABM Paper Economic Terms Very Important
Overall, you have to study at least 3 modules in detail so as to get 50 marks. You can choose the modules to study more depending on your strength. 
We, at learning sessions, provide the best study material which includes full course videos covering all the modules and topics in Hindi mixed with the English language, 5000+ chapter-wise previous year questions, and 2000+ quick notes.
We also provide free unlimited mock tests and sample papers which makes it easier to learn the concepts and also gives you an idea about the type of questions being asked in the CAIIB exams.
Read Also:- IIBF CAIIB ABM SYLLABUS AND STUDY MATERIAL 2023
You May Also Like:
So what are you waiting for? Join us today and Clear the CAIIB exams in 1 Attempt.
Must Learn:- How to Prepare for ABM in CAIIB (Advanced Banking Management)
You can also read the Syllabus priority of other papers of CAIIB here:
Also Like: