What next after CAIIB?
15 Certificate Exams in Finance and Banking useful for Bankers::
Introduction
As per the IBA settlement, bankers who have passed JAIIB and CAIIB exams are entitled to salary increments. The Banks which are following the IBA Salary structure are giving this benefit to their employees. After passing JAIIB, Clerks are eligible to receive one increment and Officers are also eligible for one increment. Passing the CAIIB examination gives two increments to clerks while officers get one increment. Apart from these associate exams, there are Certificate Exams in Finance and Banking which are very helpful for the development of bankers' knowledge.
CAIIB ABM - Advanced Bank Management Syllabus Priority
Check Here
————————————————————-
Bank Financial Management - BFM Syllabus Priority
Check Here
————————————————————-
110+ CAIIB Case Study Videos
Check here
————————————————————-
ABM BFM Retail Previous Year Questions
Get Tests Here
————————————————————-
Full Course Videos in Hindi English
Check Here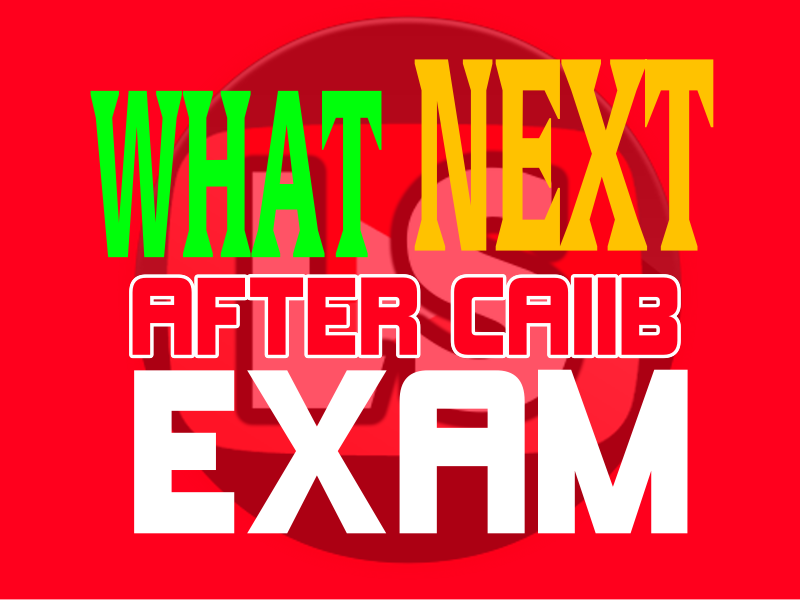 What's next after CAIIB?
I know and felt your struggles and endeavors to pass the CAIIB for getting those increments. But now you have completed; Your sala1ry has increased and you have rejoiced for your success. There is no ending for knowledge gathering in our Industry. Our banking industry is vast and it is very dynamic. We need to update ourselves regularly. Also, we have to expand our knowledge to other related areas; So that we have our chances in Banking Industry. Institutions such as IIBF, NISM, and NCFM are providing many useful Certificate Exams in Finance and Banking for the development of knowledge to bankers. Among them, 15 Certificate Exams in Finance and Banking are very useful for bankers, and the persons who cleared CAIIB must try to clear these exams.
List of Certificate Exams Offered by IIBF in Banking :
Indian Institute of Banking & Finance is offering many Certificate courses for benefit of Bankers, IT Employees, and BPO Companies. The following courses are important and useful certificate courses for bankers.
Important Specialized Courses by IIBF:
Based on the recommendation from RBI Capacity Building Committee, IBA has identified the following blended courses offered by the Indian Institute of Banking & Finance. The specialized courses will be made mandatory for bankers working in those specialized areas from 01.04.2018
S.No
Areas where certification has been identified by RBI
Course offered by IIBF and identified by IBA
1 Risk management – credit risk, market risk, operational risk, enterprise-wide risk, information security, liquidity risk
Risk in Financial Services
2 Treasury operations- Dealers, Mid office operations
Certified Treasury Dealer
3 Credit management- credit appraisal, rating, monitoring, credit administration
Certified Credit Officer
I have written a separate detailed article for the above courses read 4 Important Capacity Building Courses must-do for Bankers
Other Useful Certification Courses
MSME Finance For Bankers
Certificate Exam in AML/KYC
Certificate In International Trade Finance,
Certificate Exam in Customer Services and Banking Codes & Standards
Certificate Exam in Foreign Exchange
MSME
Certificate In International Trade Finance
Certificate Examination In Information System Banker
Certificate Examination in AML/KYC
Customer Service & Banking Codes and standards
Certificate Examination In It Security
Certificate Examination In Rural Banking Operations
Certificate Examination In Prevention Of Cyber Crimes And Fraud Management
Certificate Examination In Foreign Exchange Facilities For Individuals
Certificate Examination In Microfinance
Card Operations (for Employees of I.T. and BPO Companies)
Functions of Banks (for Employees of I.T. and BPO Companies)
Basics of Banking (for Employees of I.T. and BPO Companies)
Certificate Examination For DRA
Certificate Examination For DRA Telecallers
Business Correspondents / Facilitators
Certificate Course In Foreign Exchange
Certificate Course In Digital Banking
Introduction to Banking(for sub-ordinate staff of banks)-IN ENGLISH AND HINDI MEDIUM
Certificate Course for Non-Banking Financial Companies
Certificate Examination For Small Finance Banks
Important Topic:- All about KYC/AML Exam by IIBF
List of Certificate Exams offered by NISM:
National Institute of Securities Market (NISM) is conducting various certificate exams for persons engaging in various segments of the Indian Security Market. Almost all commercial Banks are providing DP services to their customers. So as a banker we need to know about Security markets. SEBI has mandated the NISM series exams.
Currency Derivatives
Equity Derivatives
Depository Operations
Merchant Banking
Mutual Fund Distributor Module
Each module has series of examinations and passing them makes us specialized in Securities Market. For more details about examination fees and procedure visit NISM Certifications
Important Topic:- CCP – Certified Credit Professional Exam Study Material
List of Certificate Exams offered by NCFM
NSE Acadamy Certification in Financial Market (NCFM) conducts exams to test the expertise in different fields of the Financial Market. The following are important areas of the financial market.
Modules in Commodities Market
Modules in Capital Market Module
Modules in Securities Market Module
Modules in Derivative Market Module
Modules in FIMMDA – Debt Market Module
Each module has Foundation, Intermediate and Advanced Modules which makes us to get expertise in the particular segment of the Financial Market. For more details about the exam visit NCFM Modules
Uses of Certificate Exams:
These are professional certificate exams conducted by reputed professional agencies in our Industry. So it has been recognized all over India by all Banks and other financial institutions.
These certificate courses are very helpful for our vertical career development.
Some of these courses make us specialized in a particular segment of finance and banking. Thus we will be qualified to work in specialized areas.
During yearly appraisal and promotion appraisal marks are given to the above courses under Special Qualifications.
Some Banks provide a one-time refund of the examination fees after successful completion of the exams.
Conclusion:
Though there is no salary increment for the above examinations; They are helpful for bankers in many ways. The above lists of exams are not exhaustive, I have mentioned only a few important exams.
Also Like: