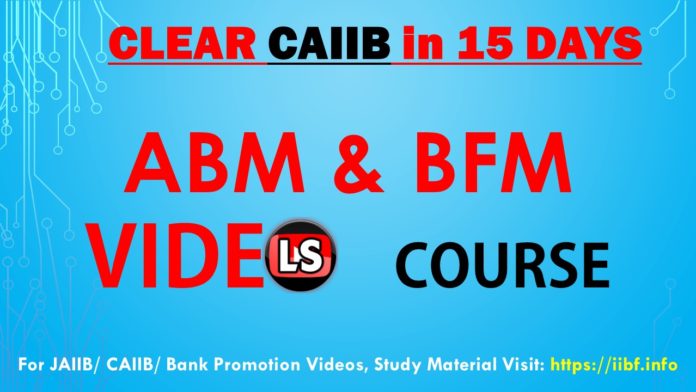 Clear CAIIB Exam in 15 Days for Sure
IIBF 2023:
IIBF is a national apex body that offers online courses in various banking and finance specialties. Candidates who work in the banking and financial industries and want to improve their professional and personal standing can access remote learning education programs from the IIBF.
The Governing Council, responsible for the overall management of IIBF, comprises a renowned group of persons from the banking and financial industry, as well as academics and professionals.
CAIIB ABM - Advanced Bank Management Syllabus Priority
Check Here
————————————————————-
Bank Financial Management - BFM Syllabus Priority
Check Here
————————————————————-
110+ CAIIB Case Study Videos
Check here
————————————————————-
ABM BFM Retail Previous Year Questions
Get Tests Here
————————————————————-
Full Course Videos in Hindi English
Check Here
————————————————————-
ABFM and BRBL Courses now available
Click Here
CAIIB Crash course
The Indian Institute of Baking and Finance administers exams in collaboration with other academic institutions worldwide to evaluate bank employees' career options.
CAIIB JUNE 2023 
CAIIB is said to be one of the most difficult courses to be cleared for bankers. But we assure you that with the help of our video study course for CAIIB 2023, you can definitely clear Advance Bank Management (ABM), Bank Financial Management (BFM), Advanced Business & Financial Management (ABFM), Banking Regulations and Business Laws (BRBL) exam for sure. We have covered the full syllabus for CAIIB ABM, BFM, ABFM & BRBL both chapter-wise and module-wise. And this will make it very easy for you to understand the very best of concepts of both exams in detail for the upcoming caiib exam.
The language used in videos is Hindi Mix English. (Terms used are in English but described in Hindi)
The IIBF CAIIB Exam for IIBF is regarded as the most challenging. Any sane individual may see the advantages of passing the CAIIB Exam in 2023. Learning Sessions has developed a strategy to pass the ABM, BFM, ABFM, BRBL and the Elective papers of the CAIIB 2023 to assist the candidates for the CAIIB JUNE 2023 Exams.
Given that the CAIIB test is one of the hardest that IIBF offers, applicants preparing for it must be aware of the crucial and highest-scoring CAIIB exam topics to succeed on their forthcoming CAIIB attempt.
CAIIB PRIORITY 2023 EXAMS
Understanding the CAIIB Exam Priority topics from the subject's Syllabus for JUNE 2023 is extremely helpful in passing the said Exam for the 2 reasons:
The CAIIB syllabus for 2023 has been extended
There is going to be negative marking in the CAIIB Exams
The CAIIB exam is given twice a year, in June and December, to current members of the Indian Institute of Banking and Finance to assess their knowledge of advanced decision-making techniques and general banking management. The most recent CAIIB registration deadline and CAIIB exam schedule are available.
The dates for the CAIIB Exams and the deadlines for registering for the CAIIB Exam 2023 have been published on the official website of the Indian Institute of Finance & Bankers. The Examination dates for 2023 are yet to be announced.
Registrations will commence the pre-notified dates.
EXAM PATTERN OF CAIIB JUNE 2023:
| | |
| --- | --- |
| TIME DURATION | |
| ABM JUNE 2023 | 2 HOURS |
| BFM JUNE 2023 | 2 HOURS |
| ABFM JUNE 2023 | 2 HOURS |
| BRBL JUNE 2023 | 2 HOURS |
| ELECTIVE JUNE 2023 | 2 HOURS |
| MULTIPLE CHOICE QUESTIONS | |
| ABM JUNE 2023 | 100 QUESTIONS |
| BFM JUNE 2023 | 100 QUESTIONS |
| ABFM JUNE 2023 | 100 QUESTIONS |
| BRBL JUNE 2023 | 100 QUESTIONS |
| ELECTIVE JUNE 2023 | 100 QUESTIONS |
| NEGATIVE MARKING | YES (1/4TH OF THE MARKS WILL BE DEDUCTED) |
| TOTAL MARKS FOR EACH EXAM | |
| ABM JUNE 2023 | 100 MARKS |
| BFM JUNE 2023 | 100 MARKS |
| ABFM JUNE 2023 | 100 MARKS |
| BRBL JUNE 2023 | 100 MARKS |
| ELECTIVE JUNE 2023 | 100 MARKS |
| MODE OF EXAMINATION | ONLINE |
STRATEGY

TO PASS CAIIB IN 15 DAYS:
When you read this article, there will only be a short amount of time left for the CAIIB exams. We also understand how challenging it can be for bank employees to balance work, family, and personal obligations while preparing for the CAIIB Exam 2023, which will not be the end of their preparations.
As a result, we are here to give you the important topics that have been chosen based on how frequently they have appeared in prior CAIIB examinations. You should not omit any topics listed below for IIBF CAIIB 2023 preparation. And we can tell you that if you study the CAIIB ABM, CAIIB BFM, and CAIIB Retail Banking topics, you will pass the CAIIB JUNE 2023 exam with ease.
ADVANCED BANKING MANAGEMENT
The first required exam for CAIIB 2023 is ABM. Both ABM and BFM are regarded as challenging papers for Certified Associates of the Indian Institute of Bankers. The primary cause of this is that the subjects covered in these two exams are not often covered in general banking or are not encountered in routine banking activity. Four modules have been created for this topic, including:
Module A: Economic Analysis
Module B: Business Mathematics
Module C: HRM in banks
Module D: Credit management
To receive 50 points, you must thoroughly study at least 3 modules. Depending on your area of strength, you can select the modules you want to learn further.
BANK FINANCIAL MANAGEMENT (BFM):
In just fifteen days, using the suggested technique will earn you 50–60 out of 100 on the BFM exam.
The syllabus for Bank Financial Management is divided into four modules, namely:
International Banking
Risk Management
Treasury Management
Balance Sheet Management
Course Duration:
Advance Bank Management: 22 Hours 24 Minutes
Bank Finance Management: 23 Hours 16 Minutes
Validity: 1 Year (From the date of Subscription)
ALL Chapters covered in the Papers of CAIIB are as per McMillan Book and iibf syllabus. We provide frequent updates in the videos section so as to be as per latest guidelines available.
CAIIB Exam Video Course
How You will get Study Material?
The video classes will be available online only (you can stream the videos 24 x 7) when you are subscribed. You can stream the videos online at our website https://iibf.info or http://caiib.learningsessions.in using your login credentials (Registered Email ID and Password).
Price:
Please check schemes/offers available on https://iibf.info for latest price of the CAIIB videos pack available.
Why us?
We are already serving more than 1,15,000+ bank candidates on our online study portals with very satisfactory result and response from our candidates.
Salient Features:
1. You can watch videos any number of times for revision
2. Save traveling and Lodging cost.
3. Providing classes at your home place.
4. Clear all your doubts one on one with faculties by contacting us or mailing us your doubts.
Other than that, below are the features of our latest Certified Associate of the Indian Institute of Bankers Course:
We provide the CAIIB Study Material 2023, which includes teaching for all of the CAIIB JUNE 2023 We have carefully designed our study material for JUNE 2023 to make exam preparation for you all easier and more enjoyable.
Teachers with great experience up their sleeves: Using their excellent study materials, the teachers at learning sessions for the CAIIB exam in JUNE 2023 teach all of the classes for each and every subject of CAIIB June Exam. We take great pride in being able to provide you with knowledgeable teachers with years of classroom experience who can analyze your needs and provide you with the lessons accordingly.
Online classes: Learning Sessions provide a classroom closely resembling the learning environment in the Certified Associate of the Indian Institute of Bankers coaching programs.
There are a variety of other tools we offer, including the Latest Videos, which offer the most recent information and is updated according to the latest CAIIB syllabus JUNE 2023.
At Learning Sessions, we offer the best study resources, including ample amounts of chapter-by-chapter practice questions from the previous year and numerous quick notes.
CAIIB Mock tests 2023: To make it simpler for you to study the concepts and to give you a better sense of the kinds of questions that will be asked in the CAIIB exam JUNE 2023, we also offer free CAIIB mock tests.
We also provide you with short and easy notes in the form of epdfs which can be accessed on our apps.
In the CAIIB Exam June 2023 Full Video Course, you will also get access to our database of more than the required multiple-choice questions, which you may use to study for the aforementioned exams. You may easily ace the test by providing faster, more accurate answers to these questions.
IIBF'S JUNE CAIIB EXAM'S REQUIREMENTS FOR PASSING:
You must receive at least 50 out of 100 in each topic, or at least 45 in each subject, and at least 250 overall in one attempt to pass the IIBF CAIIB 2023.
You may still make use of the credits you received for the subject you passed up until the period for passing the exam expires.
THE DEADLINE FOR PASSING THE CAIIB IS JUNE 2023
The window of time to pass the CAIIB Exam 2023 is limited. The time limit is as follows:
The CAIIB Exam must be passed within three years from the day you registered for it or the five attempts.
Otherwise, you must re-register for more tries and any test credits that may be available.
Otherwise, you will need to re-register for other tries, and whatever test credits you may have earned in the past won't be maintained.
In the following text, we'll go through the strategies for passing the CAIIB Exam 2023, whether it's all the CAIIB papers you're taking this June 2023 or just one of them, like Advanced Bank Management, Bank Financial Management, or any of the Elective exams.
Also See: 10 Mistakes you must avoid in CAIIB Exam
CONTACT US
You can join :
Directly talk to us:
You can access the material through:
Also Like: