IIBF CAIIB 7 DAY STRATEGY | PASS CAIIB – ABM, BFM 2023 IN THE FIRST ATTEMPT
This article is for the CAIIB candidates who are preparing for the CAIIB exams upcoming June Attempt 2023.
CAIIB is considered the toughest exam of IIBF Certifications & candidates preparing for it are always on the lookout for tips, strategies & shortcuts & methods.
There are some aspirants who register for the Exam but forget about the CAIIB 2023 Exams until the last ABM, BFM, ABFM, BRBL, and CAIIB Elective exam dates for Rural Banking, HRM, IT & DB, Risk Management, and Central Banking. Then they go out to look for various ways to crack their CAIIB attempt.
Although we understand that there could be varied & genuine reasons for them not preparing for CAIIB till the last date, & this is the reason that we have come up with short & precise strategies to help achieve their goal of passing the CAIIB JUNE 2023 Exams.
READ MORE: WATCH OUR DAILY IIBF JAIIB/CAIIB LIVE CLASSES
CAIIB ADVANCED BANK MANAGEMENT, BANK FINANCIAL MANAGEMENT STRATEGIES 2023
We will explain the ways or methods as to how you can clear your CAIIB Exam 2023, whether it's all the CAIIB papers that you are writing this June 2023 or the individual paper of CAIIB i.e Advanced Bank Management (ABM), Bank Financial Management (BFM).
In this article, we will provide you with all the topics and concepts that you need to prepare so that you can pass this CAIIB Exam in June 2023!
After reading the priority & the topics as per the respective Exams' Strategy to pass ABM, and BFM in 14 days (7 for ABM, 7 for BFM).
As there will only be a limited time left for the CAIIB papers when you will come & read this article & because we understand – how difficult it gets for persons working in banks to manage their professional & domestic life & then in addition to that they have to prepare for CAIIB Exam 2023 which also doesn't end at that.
So, we are here to provide you with the important topics which have been selected based on how many times they have been repeated in past examinations of the CAIIB Exam so far & the topics have been enlisted with the marks or weightage that can be scored from those particular topics of the respective subjects.
You only need to prepare the below-given topics of IIBF CAIIB 2023 & should not skip them. And we assure you if you go through the mentioned topics of CAIIB ABM, and CAIIB BFM then you can easily pass this CAIIB JUNE 2023.
In the below parts, you will be provided with the important topics along with the module's priorities you need to cover first.
READ MORE: HOW TO CLEAR CAIIB IN 2023 EASILY ON THE FIRST ATTEMPT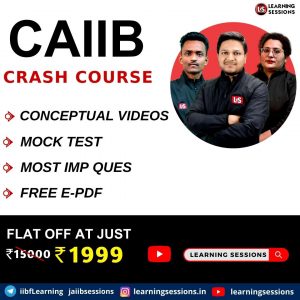 Please take a look at the below topics as they have been listed & in the same order, they have been referred, for the maximum advantage.
MODULE A
UNIT
MARKS 
Statistics (Importance & Limitation & Data collection and classification & tabulation)
………
Sampling Method

[types, probability]

Estimation

[error, UCL, LCL, Definitions, Multiplier, Proportion]

1-5

5-8 (Numerical)

Linear Programming
2

5 (Numerical)

Correlation/Regression

[only if you have studied statistics]

2

4 (Numerical)

Time Series
2

5 (Numerical)

Simulation

[if you have spare time, then you can prepare for numerical)

2

5 (Numerical)

This module also scored (25 to 35 marks from this module) but has most of the practical concepts or problems, then you have to decide beforehand whether you should cover this module or not. Although, if you are good at mathematics then you easily score highest in the above topics.
Module D
Unit
Marks
Compliance Function in Banks

Compliance Audit

Compliance Governance Structure

Framework for Identification of Compliance Issues and Compliance Risks

Compliance Culture and GRC Framework

Compliance Function and Role of Chief Compliance Officer in NBFCs

Fraud and vigilance
MODULE C
UNITS
MARKS
Working Capital Finance
1-2

5 (Numerical)

Risk

[NPA]

5 (Numerical)
Overview
Financial Statement

Working Capital

Term Loan

[Priority Sector]

Credit Delivery and Straight through the process
Control & Monitoring
Risk management and credit rating
Restructuring/Rehabilitation/Recovery
Resolution of stressed asset under Insolvency and bankruptcy code 2016
MODULE B
UNITS
MARKS
Feedback/Review
Case-studies
Performance Management
HRM-IT
10-12
Fundamentals
Developments
Human Implications
Conflict management
Topics from Credit Management are going to get you 15 to 20 marks by preparing the above-mentioned concepts. You can decide either to prepare the theory part of the below topics or the numerical part as per your preference or availability of time.
Well, specifically for this paper, we would like to mention that all 4 modules have equal weightage. So, in this particular paper preparation, you can prepare any 3 modules out of 4.
For the candidates who find the Practical concepts difficult, they can skip module B's topics they find a little difficult to go through.
READ MORE: WILL I GET CREDIT FOR MY PREVIOUS CAIIB EXAM IN 2023
Note: IT WILL SOON BE UPDATE WITH THE CHANGED SYLLABUS
READ MORE: CAIIB EXAM JUNE DATE 2023: NOTIFICATION, SYLLABUS & HOW TO APPLY
ABM STUDY MATERIAL CAIIB EXAM 2023
You can easily prepare the Advanced Bank Management paper as per the above ABM 7-day strategy with the help of Learning Session Material for ABM Exams June 2023.
This material is in video format & has been arranged according to their respective contents.
ABM Full Video Course [Chapter-wise]
Advanced Bank Management Previous year questions
Mock Tests of ABM
Epdf Notes
Video Playback: 2 times
IIBF prescribed Syllabus
Most Reasonable Prices
Access the courses through:
Here, we are providing you with the important topics which have been coming up in the past Banking Financial Management paper of the Certified Associates of Indian Institute of Bankers Exam. The weightage in terms of marks is also mentioned along with the given topics.
As already explained, you can pass BFM (Paper-2) of the CAIIB 2023 Exams by following this strategy. in just 7 days. One thing you need to remember is that you don't skip any of the mentioned topics of BFM given in the below tables.
Following the given strategy will get you around 50-60 marks out of 100 from the BFM paper in just 7 days! We have given the topics as per the module priority. It means that you need to prepare the modules & topics in the given order for this strategy to work in your favour.
READ MORE: CAIIB JUNE 2023 STUDY MATERIAL: VIDEOS, EPDF & MOCK TESTS
7-DAY STRATEGY TO PASS BANK FINANCIAL MANAGEMENT 2023
MODULE
UNITS
MARKS
B – Risk Management
Basel – III 
5-10
On balance-Off balance
5
RWA
5
Capital
5
Market Risk
10
Operational Risk
5
RaROC
5
Volatility, value-added risk, Risk regulations in the banking industry, CRAR, Market risk
Other
risk migration & credit metrics
The Risk Management unit is the most scored module from the Bank Financial Management Syllabus 2023. We must warn you that you should not skip any of the above-mentioned topics.
MODULE – A
UNITS
MARKS 
A – International Banking
Forex Business

Exchange rates

3-4

5-10 (numerical)

Documentary Letters of Credit
2

3(Numerical)

5 (Case Study)

Correspondent banking, & NRI accounts
8
Facilities for Exporters & Importers
4
Basics of Forex derivatives
1-2

1-2 (numerical)

Policies
3
This module is wholly theoretical & case studies also come from this module's topics. If prepared correctly as per the given preference then candidates can get 20-24 marks from the above-given topics or concepts.
MODULE – D
UNITS
MARKS
D – Balance Sheet Management
Gap Analysis
5
Implementation of ALM
This module is all practical & focuses on the Prudential norms & the analysis. Please refrain from preparing this module before Modules B & A.
MODULE – C
UNITS
MARKS
C – Treasury Management
Instruments
5-6
Swaps
Derivatives
Module C is also theory-based & should be prepared to keep in mind the fact that you need to take an understanding of what they are & for what purpose they are being used.
READ MORE: STRATEGY TO PASS CAIIB JUNE 2023 EXAM IN 30 DAYS ATTEMPT
Bear in mind that you go first through the 2nd Module i.e. 'Module- B' and then Module – A, then Module – D & at last Module – C.
If you prepare for Module B & Module A – topics properly, then you can easily pass the BFM Paper of June 2023 because each of these modules can get you scores up to 20 marks.
BFM STUDY MATERIAL TO STUDY IN 7 DAYS.
Having understood the priority of topics, you will find that reading from good study material will truly enhance your preparation for a BFM paper if you follow the above strategy. And you can easily prepare the paper on Bank Financial Management with the Learning Session Material.
This BFM material is basically in video format & available to view as per the user preference because the lectures have been named with their respective topics which conveniently allows the CAIIB candidates to follow the above Bank Financial Management strategy.
Full Video Course of BFM [Chapter-wise]
Previous year questions BFM Exams
Mock Tests of BFM
Case Studies
Notes – Epdfs
Speed increase = 2x
IIBF prescribed Syllabus
Most Reasonable Prices
You can avail of the course at the 80% Discount for the combo pack of CAIIB by using Code: LSPRO
Access the courses through:
CAIIB – ABM + BFM STUDY MATERIAL 2023
We also have the Combo pack of CAIIB Study Material in which you can avail the video lectures of any of the Certified Associate of the Indian Institute of Bankers papers i.e Advanced Bank Management, Bank Financial Management, ABFM, BRBL, Rural Banking, HRM, IT & DB, Risk Management, Central Banking & the (elective paper of CAIIB).
CAIIB Full Video Course
Chapter-wise
Previous year questions
Questions
Case Studies
Notes Epdfs
Speed increase = 2x
IIBF prescribed Syllabus
Most Reasonable Prices
We also have a Video lecture on IT (Information Technology) with the Combo of ABM + BFM video lectures. These CAIIB Study Materials are available at the most reasonable prices & you can also get an Extra Discount over & above the combo packs using this code: NEW2023
Access the courses through:
CONTACT US TO GET THE SUCCESS!
So, hurry up & pass this CAIIB Exam 2023 with sure success!!
You can also join us on:
You can message us any query regarding the study material, its price or to know what is the best offer running on the CAIIB or other Certification Exams!
I wish you the Best for your CAIIB Exam in JUNE 2023!
Aman Bulehaun
Also Like: