How to Clear NOV / DEC CAIIB 2022 in One Attempt ??
This article has been written for the candidates preparing for NOV / DEC CAIIB exams 2022. If you are also preparing for the November or December CAIIB attempt then you must read this article. In this article we will discuss as to how one can clear their CAIIB Exams along with examination details of CAIIB, CAIIB registration dates and exam dates 2022.
CAIIB NOV / DEC EXAMS 2022
CAIIB 2022 – Chartered Associate of Indian Institute of Bankers is an associate exam conducted by the Indian Institute of Banking & Finance to provide advanced knowledge to the banking officials to improve their decision-making skills in their respective fields/departments.
CAIIB ABM - Advanced Bank Management Syllabus Priority
Check Here
————————————————————-
Bank Financial Management - BFM Syllabus Priority
Check Here
————————————————————-
110+ CAIIB Case Study Videos
Check here
————————————————————-
ABM BFM Retail Previous Year Questions
Get Tests Here
————————————————————-
Full Course Videos in Hindi English
Check Here
————————————————————-
ABFM and BRBL Courses now available
Click Here
CAIIB Crash course
This exam provides necessary advanced level knowledge at a specialized department like Treasury, International Banking Division, IT, Human Resources, Corporate Banking, Retail Banking, Cooperative Banking, etc &  is mainly targeted at officers/ assistant managers and above cadres.
ELIGIBILITY CRITERIA FOR NOV / DEC CAIIB 2022:
The members who have completed JAIIB or Part 1 of the Associate Examination can appear for this exam. The membership subscription of the members should not have any dues.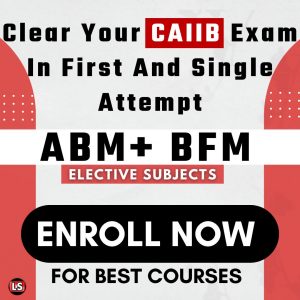 READ ALSO -> IIBF CAIIB CLASSES FOR NOV EXAMS 2022
NOTIFICATION DATES FOR CAIIB NOV / DEC 2022:
The Indian Institute of Banking & Finance (IIBF) has already declared the CAIIB exam date for NOV / DEC CAIIB 2022. The Institute has declared the dates for CAIIB registration as well as Exam dates for the NOV / DEC Exams of CAIIB for 2022 at its official website & you can check them out from below too:
IIBF DECEMBER CAIIB EXAM REGISTRATION DATE:
The CAIIB exams registrations are schedule to start from 30th November which will continue till 20th October this 2022.
IIBF DECEMBER CAIIB EXAM NOV DATE 2022:
The exam dates of CAIIB papers for NOV / DEC are:
Paper 1: ABM i.e. Advanced Bank Management – November 27th 2022
Paper 2: BFM i.e. Bank Financial Management – December 4th 2022
Paper 3: Elective – i.e for the Central Banking, Retail Banking, IT, HRM, Rural Banking & Risk Management – December 10th 2022
IMPORTANT TOPIC:- HOW TO APPLY CAIIB EXAM 2022
EXAM PATTERN FOR IIBF CAIIB NOV / DEC 2022:
| | |
| --- | --- |
| CAIIB NOV / DEC 2022 | For CAIIB Exam |
| Mode of Exam CAIIB | Online |
| Duration of CAIIB Exam | 120 minutes |
| Total Number of Questions | 100 questions |
| Type of Questions | Multiple Choice Questions |
| Maximum marks in Exam | 100 marks |
| Medium of Exam | English or Hindi |
| Negative Marking | No negative marking |
CAIIB SYLLABUS NOV / DEC 2022 EXAM
The CAIIB syllabus is mentioned in detail in the official website of Indian Institute of Banking & Finance. As per the syllabus given by IIBF, candidates have to study three papers for the Certified Associate of IIBF exam.
2 Compulsory Papers-
Advanced Bank Management
Bank Financial Management
Read Also:- CAIIB EXAM DATE 2022
1 Elective Paper –
For the examination to be conducted from NOV / DEC 2022 onwards, only the following electives are offered by IIBF:
Retail Banking
Human Resource Management
Central Banking
Rural Banking
Risk Management
Candidates have to select any one subject out of the given options for Elective paper by IIBF.
Read Also:- CAIIB ABM Syllabus Priority
HOW TO PREPARE FOR CAIIB 2022 EXAM?
This is one of the most common questions asked by the candidates who are either thinking of preparing the Chartered Associate of Indian Institute of Bankers or are actually preparing for Chartered Associate of Indian Institute of Bankers.
Unlike any other exam of IIBF or of any other Institute, this paper is taken to be tougher & rougher. The reason being that clearing CAIIB gets the qualified CAIIB – 2 increments in his or her salary in case he or she is working in the member Bank of IIBF at the clerical post & 1 increment in case he or she is working in the member Bank of IIBF at the officer post.
So, definitely, the Institute will be putting forth a question paper that isn't that easy to crack. That's why most of the candidates struggle to clear the CAIIB paper. More so over,  CAIIB exam 2022 is a little tougher than JAIIB & requires a depth understanding of all the concepts.
We at Learning Sessions are providing full course videos for CAIIB NOV / DEC 2022 in bilingual language i.e both Hindi & English language which are comprehensive & exhaustive covering the updated syllabus as prescribed by IIBF for the CAIIB latest attempt.
We are also covering Retail banking & Information technology videos & questions, chapter-wise previous year questions, mock tests, E-PDF notes & much more which can help you in preparing well for CAIIB.
Bankers can easily study our notes and even resolve any questions that they may have while continuing with their daily work activities without the need for any additional support of classes or study groups.
CAIIB Candidates can access the CAIIB Materials from the mobile applications as well as browsers. You can take advantage of the opportunity by contacting us on our whatsapp no. for the current offer & getting any guidance that you need as to which course will be best & suitable as per your requirements.
So, make the right choice by choosing Learning Sessions, your first step towards ensuring success in the NOV / DEC CAIIB exam 2022.
Candidates are also guided by offering them exam strategies in the context of:
What should be your CAIIB time management?
Which module of CAIIB – ABM, BFM & Retail should be given preference?
Which topics & concepts should be covered by you to crack CAIIB?
What are the tips & tricks that you can keep in mind while preparing for the CAIIB papers?
The answers of all the above questions are available at our website on different articles. We will also provide you the links of them below for convenient access.
LINKS:
GET IN TOUCH WITH US
To get offers on the CAIIB or other IIBF Certification Exams, you can talk to us on our Whatsapp No.: 8360944207
Or you can also directly visit the website for Exam Materials: iibf.info
For regular banking related updates & free updates you can join us on:
All the Best for your Exams!
Team: Learning Sessions
Also Like: