CAIIB BFM SYLLABUS 2022 | BFM – BANK FINANCE MANAGEMENT
As the IIBF had notified last year (2022) the revised syllabus for CAIIB papers including the paper of BFM, the candidates preparing for the 2022 December Bank Financial Management CAIIB attempt, might be trying to understand what are the topics that fall under the syllabus that is applicable this 2022 last time.
In this article, we will give you the details of the BFM syllabus that are applicable for the Dec 2022 CAIIB BFM Exams.
CAIIB ABM - Advanced Bank Management Syllabus Priority
Check Here
————————————————————-
Bank Financial Management - BFM Syllabus Priority
Check Here
————————————————————-
110+ CAIIB Case Study Videos
Check here
————————————————————-
ABM BFM Retail Previous Year Questions
Get Tests Here
————————————————————-
Full Course Videos in Hindi English
Check Here
IIBF CAIIB BFM SYLLABUS FOR DEC 2022:-
IIBF had long ago closed the registrations for its flagship course of 2022 CAIIB. The time to register for CAIIB was from the 30th of September 2022 till 20th of October 2022. So, if you plan to register for CAIIB, you will have to wait for the next year. But this time, for the candidates who have their exams due this Dec 2022, must go through the Study Material for the CAIIB BFM that is prepared by Learning Sessions' expert faculty.
This CAIIB will get you one step closer to the promotion that you have been seeking. Through this merit-based channel, you will also get one year increment in advance.
IIBF CAIIB BFM SYLLABUS FOR NOV / DEC 2022
The syllabus so as to get the CAIIB candidates out of their doubts, about the CAIIB Exams Syllabus for BFM paper, you must know that the IIBF has not confirmed that the revised syllabus that was notified is applicable for NOV/DEC 2022 Exams. So, the old syllabus is applicable for the Nov & Dec attempt this 2022.
PAPER
BFM subject has a total of 4 modules:
Banking Financial Management

BFM

A. Risk Management

B. Treasury Management

C. Balance Sheet Management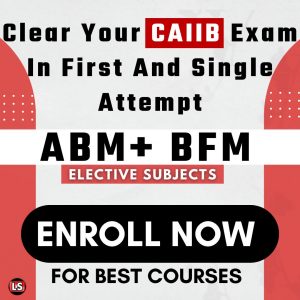 VISIT ALSO-> IIBF CAIIB NOV LATEST SYLLABUS 2022
CAIIB – BFM SYLLABUS 2022
CAIIB – BFM MODULE A: International Banking
Forex Business:
This unit discusses the meaning of Forex Business; the factors that determine exchange rates, spot & forward rates, Direct & indirect quotations, premium & discount, cross rates, all the Basics of forex derivatives; forward exchange rate contracts, Options, Swaps, Correspondent Banking, Non-Resident Indian Accounts are explained in here.
Read Also:- IIBF CAIIB BFM RECOLLECTED QUESTIONS FOR 2021-2022 EXAM
The Documentary letters of Credit:
UCPDC 600 (Uniform Customs and Practice for Documentary Credits), various facilities available for exporters & importers; Various kinds of Risks in foreign trade, role of Export Credit Guarantee Corporation of India (ECGC), insurance & guarantee cover types or ECGC; Role of Exim Bank & role of Reserve Bank of India and exchange control, Regulations in India, Role & rules of FEDAI (Foreign Exchange Dealers Association of India), Role of FEMA and its rules, etc are covered here in this unit.
EXAM SPECIAL OFFER
As the exams are just around the corner, we, Learning Sessions, have brought you an EXAM OFFER!!
Here, we are offering courses on IIBF CAIIB, & IIBF CERTIFICATION are now available at A HUGE 80% OFF !!
Use Code: LSPRO
VISIT: CLICK HERE
What we offer in CAIIB Courses:-
Full video course of CAIIB – Conceptual &/or Questions Videos(chapter-wise)
English + Hindi Language
English Language only
Latest and updated CASE STUDY VIDEOS
Chapterwise Questions
Memory Recalled Questions
Tests for CAIIB 2022:
Chapter-wise Tests
Mock Test Papers
Compete Tests
Read Also:- CAIIB Bank Finance Management Short Notes Part 2 ( CAIIB BFM )
CAIIB – BFM MODULE B: Risk Management
Risk:
The concepts of Risk such as Risks in Banks, Risk Management Framework, Organizational Structure, Risk Identification, Risk Measurement or Sensitivity, Basis Point Value (BPV), Downside Potential, Value at Risk (VaR), Stress Testing, Back Testing; Risk Monitoring & Control, Risk Reporting, methodology of rating, risk weights, eligible collateral for mitigation, guarantees, Market Risk identification, Measurement and management of credit risk; credit ratings, transition matrices, Credit risk spreads, risk migration, default probabilities, Counterparty Risk, and credit metrics. Credit exposures, recovery rates, risk mitigation techniques, Operational and Integrated Risk Management, Risk & Capital Management, 'Basel Norms- Current guidelines on risk management are some of the topics that will be provided here.
CAIIB – BFM MODULE C: Treasury Management
Treasury Management:
The Concepts and functions related to treasury management; instruments that are dealt in the treasury market, development of new financial products, control & supervision of treasury management, the linkage of domestic operations with foreign operations are placed in this unit.
Interest rate risk, interest rate futures, Mix/ Pricing of Assets, Liabilities, On-Balance Sheet:
Investment & Funding Strategies, Stock options, Bond Portfolio Strategy, Debt instruments, Risk Control & Hedging Instruments, Investments, Treasury Bills, Money Market Instruments such as CPs (Commercial papers), CDs, IBPs Securitisation and Forfaiting; refinance and re-discounting facilities, Derivatives & what are Credit Default Swaps/ Options focused in this unit.
Read Also:- CAIIB CENTRAL BANKING SYLLABUS 2022
CAIIB – BFM MODULE D: Balance Sheet Management
Prudential norms:
This unit describes the Prudential norms like Capital Adequacy; Implementation of 'Basel Norm's guidelines: RBI guidelines; Banks Balance Sheet, Balance Sheets Components of Assets and Liabilities; ALM Implementation (Application Lifecycle Management), Guidelines of Reserve Bank of India, Assumptions, Gap Analysis, Mechanics and Limitations, Illustrations of Actual Gap Reports, The Relationship b/w Gap & Income Statement; Funding Liquidity.
Read Also:- BFM Previous Year Question Papers (Bank Financial Management) PDF Free Download
This unit also explains the meaning of Trading or Managing Liquidity; Contingency Funding; Business Strategies: Profit and profitability analysis, Classification of Assets, their provisioning, the effect of Non-Performing Assets on profitability, Shareholder value maximization & Economic value added (EVA): profit planning, measures to improve the profitability & some guidelines for disclosure.
Learning Sessions has prepared material for the flagship course of CAIIB IIBF. This CAIIB course is available in combo packs as well as packs for individual subjects. You can avail the material in whatever pack you want.

The BFM Crash course (subject no. 1 of CAIIB) has the following contents:

Crash Course

Videos

Hindi Mix English Bilingual Videos

Chapter-wise/Topic-wise

Case Studies

on BFM

Download Videos for Offline Viewing in App

ePDF

Notes on BFM (accessible on our apps)

Detailed Concepts

Concept Clearance through Question Videos
CAIIB IIBF LATEST CRASH COURSES CAN BE ACCESSED VIA:
Download Android App: LS PRO or IIBF LEARNING CENTER
Download iOS App: My Institute (Code: gegkt)
GET IN TOUCH WITH US
To get offers on the CAIIB or other IIBF Certification Exams, you can talk to us on our Whatsapp No.: 8360944207
Or you can also directly visit the website for Exam Materials: iibf.info
For regular banking related updates & free updates you can join us on:
All the Best for your Exams!
Team: Learning Sessions
You can also read more on BFM:
Important Topic:- CAIIB BFM (BANK FINANCIAL MANAGEMENT) SYLLABUS PRIORITY
Also Like: