CAIIB

BFM Notes JUNE 2023 – Bank Finance Management Short Notes Part 1
This article has been written for the candidates who are preparing for the CAIIB Examinations that are going to be conducted this JUNE 2023. In this article, we already know about the CAIIB exams of IIBF, and CAIIB BFM Exam dates 2023 & you will also find useful notes which are precise & to the point on the important BFM topics from the applicable syllabus of CAIIB BFM 2023.
And you will also find the CAIIB Study Material which is applicable for the JUNE Exams 2023 at the end & how to access the same.
CAIIB ABM - Advanced Bank Management Syllabus Priority
Check Here
————————————————————-
Bank Financial Management - BFM Syllabus Priority
Check Here
————————————————————-
110+ CAIIB Case Study Videos
Check here
————————————————————-
ABM BFM Retail Previous Year Questions
Get Tests Here
————————————————————-
Full Course Videos in Hindi English
Check Here
————————————————————-
ABFM and BRBL Courses now available
Click Here
CAIIB Crash course
CAIIB JUNE EXAMS 2023
IIBF CAIIB Exams are conducted by IIBF. CAIIB is one of many the flagship courses offered by IIBF, twice a year. It is conducted in the months of June & December every year. This course of CAIIB has a total of 5 subjects out of which 4 are compulsory and BFM or Bank Finance Management is one of the four papers.
READ MORE: HOW TO CLEAR CAIIB IN 2023 EASILY ON THE FIRST ATTEMPT
Bank Finance Management has 4 modules which are further divided into several units.
PAPER
MODULE OF CAIIB BFM PAPER
Bank Finance Management
1.    International Banking
2.    Risk Management
3.    Treasury Management
4.    Balance Sheet Management
To check out the detailed syllabus of CAIIB- BFM, BFM & electives click here.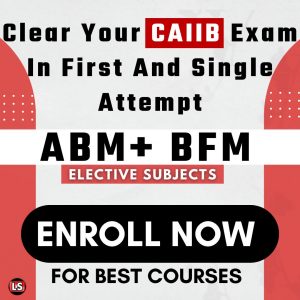 Read Also:- CAIIB: BFM ABM in one Attempt
CAIIB BFM SHORT NOTES:
MODULE – A: INTERNATIONAL BANKING
UNIT – 1: Exchange Rates And Forex Business
Foreign Exchange: Currencies conversion from the currency of invoice to the home currency of the exporters is known as Foreign Exchange.
Foreign Exchange Management Act (FEMA), 1999 defines Foreign Exchange as "All deposits, credits and balances payable in foreign currency and any drafts, traveller's Cheques, LCs and Bills of Exchange, expressed or drawn in Indian Currency and payable in any foreign currency."
Foreign Exchange Transaction: It is a contract for the exchange of funds in one currency for funds in another currency at an agreed rate or arranged basis.
Exchange Rate: It is the price or the ratio or the value at which one nation's currency is exchanged for another nation's currency.
Important Topic:- CAIIB BFM (BANK FINANCIAL MANAGEMENT) SYLLABUS PRIORITY
Participants in Foreign Exchange markets are:
Central Banks
Corporations
Commercial Banks
Individuals
Investment Funds or Banks
Forex Brokers
READ MORE: WILL I GET CREDIT FOR MY PREVIOUS CAIIB EXAM IN 2023
OFFER: Cut down your 2023 Exam cost
Only limited time has left for our 82% Flat Discount Offer. If you hurry & avail our CAIIB Study material, you get to have our premium Online classes at @18% of MRP.
Use Coupon Code: NEW2023
VISIT: CLICK HERE
Forex Markets: The Forex markets are highly dynamic as that on average the exchange rates of major currencies fluctuate every four Seconds, which effectively means a forex market registers 21,600 changes in a day (15 times X 60 seconds X 24 hours)
Operation: These markets generally operate from "Monday to Friday" globally, except for the Middle East or other Islamic Countries that function on Saturday & Sunday (with restrictions), to cater to the needs of locals, but remain closed on Friday. Most of the Forex markets work on an OTC (Over Counter) basis.
Read Also:- CAIIB Bank Finance Management Short Notes Part 2 ( CAIIB BFM )
Factors Determining Exchange Rates:
Fundamental Reasons:

Balance of Payment
Political Issues
Economic Growth rate
Interest Rates
Fiscal policy
Monetary Policy

Technical Reasons:

Government Control can lead to unrealistic values.
Free flow of Capital from lower interest rates to higher interest rates

Speculative: Higher the speculation higher the volatility in the exchange rates
Because the forex markets are vast and operate in different time zones, most of the 'Forex deals' in general are done on a SPOT basis.
Important Topic:- BFM Previous Year Question Papers (Bank Financial Management) PDF Free Download
CAIIB IIBF BFM LATEST STUDY MATERIAL 2023
You can access the BFM & CAIIB's other paper Study material which is applicable for the June Exams this 2023 through the website as well as Android & iOS apps. The links are given at the end of the contents of the CAIIB Study Material:
What is in CAIIB's LATEST STUDY MATERIAL OF BFM 2023:
Full video course of CAIIB 2023 (chapter-wise)
English + Hindi Language
English Language only also
Latest and updated CASE STUDY VIDEOS 2023
Chapterwise Questions
Memory Recalled Questions 2023
Tests for CAIIB 2023:

Chapter-wise Tests
Mock Test Papers
Compete Tests

Pdf notes
You can access the applications by downloading:
CAIIB BFM SHORT NOTES 2023 CONTINUED:
Delivery: The delivery of Forex (FX) deals can be settled in one or more of the below ways:
Ready or Cash
Spot
TOM (Tomorrow Next)
Forward
Spot & Forward
Ready or Cash: When funds get settled on the same day (date of Deal) it's referred to as Ready or Cash.
TOM: In this delivery of forex the funds are settled on the next working day of the deal. If the case, the settlement falls on a holiday in any of the 2 countries, the settlement date will be done the next working day in both countries.
Spot: Settlement of funds takes place on the 2nd working day after or following the Contract or deal date. If the settlement day is a holiday in any of the 2 countries, the settlement date will be the next working day in both countries.
Forward: Fund is delivered on any day after the SPOT date in a forward contract.
Spot and Forward Rates: On the other hand, when the currencies are delivered at a date beyond the Spot date, it is a Forward Transaction and the rate applied is known as the forwarding Rate.
Read Also:- IIBF CAIIB BFM RECOLLECTED QUESTIONS FOR 2023 EXAM
Forward Rates: These rates are derived from Spot Rates & are the function of the spot rates and forward premium or discount of the currency that is being quoted.
Forward Rate = Spot Rate + Premium

Or

= Spot Rate – Discount
Premium: If the currency value is more than what is quoted for Spot, then it is said to be at a premium.
Discount: If the currency is cheaper than what is being quoted for Spot, then it is said to be at a Discount.
The forward premium & discount: These are generally based on the interest rate differentials of the currencies (two) involved.
In a perfect market where there is no restriction on finance and trade, the interest factor becomes the basic factor in arriving at the forward rate.
Read Also:- CAIIB 2023 STUDY MATERIAL
The Forward price of a currency against another: It can be worked out with the help of the following factors:
The spot price of the involved currencies
The Interest rate differentials for the currencies.
The term that is 'the future period for which the price is being worked out.
The price of the currency can be expressed in 2 ways:
Direct Quote
Indirect Quote.
In Direct Quote –  the local currency is variable. Example: 1 USD = Rs. 74.92
These Direct Quote rates are also called Home/Price Quotations.
In indirect Quote – the local currency remains fixed, while the no. of units of foreign currency varies. Example: Rs.100 = 1.33 USD
On the global level, all currencies (except GBP) are quoted as Direct Quotes. In the case of GBP (Great Britain Pound) £, AU$, €, and NZ$, the currencies are quoted as indirect rates.
Read Also:- IIBF CAIIB BFM STUDY MATERIAL 2023
Japanese Yen: It is quoted per 100 Units.
Cross Currency Rates: When dealing in market rates for a particular currency pair is not directly available then the price for the said currency pair is then obtained indirectly with the help of the Cross rate mechanism.
Calculation of Cross Rate:
The calculation is simple algebra: [a / b] * [b / c] = a / c
Substitution of pairs of currency for the fractions shown above (algebra) would get you, for instance, = GBP/AUD x AUD/JPY = GBP/JPY.
This is the implied (also known as theoretical) value of the GBP/JPY, based on the value of the other 2 pairs. The actual value of the GBP/JPY will vary around this implied value, as per the following calculation:
Let us suppose values for the closing BID prices for the 3 currency pairs in this example:
GBP/AUD = 1.73449,
AUD/JPY = 0.85535 and
GBP/JPY = 1.48417.
Now, the interesting part!! Let's do the math!!
GBP/AUD x AUD/JPY = GBP/JPY
1.73449 * 0.85535 = 1.4836
The above values might not be the exactly same as the actual market price because of the reason that during market hours (Sunday afternoon to Friday afternoon, EST), all prices are LIVE, and the small departures from the mathematical relationships can exist momentarily leading to the difference.
Fixed Vs Floating Rates: The fixed exchange rate is the official rate set by the monetary authorities for 1 or more currencies. It is usually pegged to 1 or more currencies while under a floating exchange rate, the value of the currency is decided by supply and demand factors for a specific currency.
The world economies have adopted a floating exchange rate system since 1973 whereas, India adopted a floating exchange rate regime in 1993.
Bid & Offered Rates: The buying & selling rates are referred to as Bid & Offered rates.
Read Also:- Pass Bank Financial Management (BFM) in 1 Attempt
Exchange Arithmetic – Theoretical Overview:
Chain Rule: This rule is used in attaining a comparison or ratio b/w 2 quantities linked together through other quantities and consists of a series of equations.
Per cent or Per mille: It's a percentage (%) that is a proportion to per hundred. Per Mille is per thousand.
Value Date: The date on which funds payment or an entry to an account becomes actually effective and/or subjected to interest if any. In the case of TT, the value date is usually the same in both centres.
Important Topic:- CAIIB BFM SYLLABUS 2023 | BFM – BANK FINANCE MANAGEMENT
Valuer Compense:  The payments that are made on the same day, so that no gain or loss of interest accrues to either party is known as Valuer Compense.
Arbitrage in Exchange: Arbitrage consists of the simultaneous buying and selling of a commodity in 2 or more markets to take advantage of temporary price discrepancies.
PRACTISE FREE MOCK TEST 2023 
Click on the given link to attempt a test to mirror your understanding of your concepts: Free BFM Mock Test Series
REACH US
For any query or for the best offers on the CAIIB or other Certification Exams, message us:
Whatsapp: 8360944207
For CAIIB Exam Materials visit: iibf.info
You can also join us on
All the Best for your Exams!
Team: Learning Sessions
You may also be interested in:
CAIIB BFM SYLLABUS PRIORITY
BFM Priority
How to Prepare for CAIIB – BFM
BFM preparation
How to Clear CAIIB in One Attempt?
Clear Attempt
CAIIB Risk Management Pattern, Passing Criteria
Pattern
What next after CAIIB?
IIBF Certifications
CAIIB BFM Previous Year Question Papers (Bank Finance Management) PDF
Link
CAIIB BFM Previous Year Question Papers (Bank Financial Management) PDF
Link
CAIIB Retail Banking Previous Year Question Papers PDF
Link
CAIIB Information Technology Previous Year Question Papers PDF
Link
CAIIB – BFM- Time Value of Money
Time Value
Letter of Credit Calculations
Calculation
CAIIB BFM Notes
CAIIB BFM Notes
Also Like: