Bank financial management or Bank Finance Management is said to be the most difficult exam in CAIIB. Because candidate appearing for CAIIB very less conceptual clarity regarding the different paradigms of CAIIB. Then how is it possible to clear the BFM paper in one attempt?
CAIIB ABM - Advanced Bank Management Syllabus Priority
Check Here
————————————————————-
Bank Financial Management - BFM Syllabus Priority
Check Here
————————————————————-
110+ CAIIB Case Study Videos
Check here
————————————————————-
ABM BFM Retail Previous Year Questions
Get Tests Here
————————————————————-
Full Course Videos in Hindi English
Check Here
First Things First, I am saying that the exam is difficult if we compare it with other papers of CAIIB. But it is not impossible cover the syllabus for BFM. And surely, we can clear Bank financial management exam in one attempt.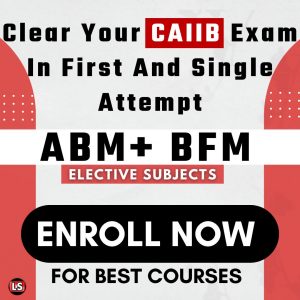 Strategy for passing BFM paper:
There is no magical wand around there which can help you. I mean there is no shortcut for clearing the BFM exam. You have to put efforts, have to learn the basics and most important, cover syllabus priority wise.
Are Case Studies important in Bank Finance Management?
Yes of course case studies are important. But you need to understand one thing that case studies are also part of theoretical portion. Or you can consider that it may be a formula that is used. So for concentrating on the case studies first of all you need to concentrate on the theoretical part.
Also See: CAIIB 2021: Exam Dates, Eligibility, Syllabus, Pattern
Basics for BFM?
Now many candidates have a question in their mind that " is Macmillan enough to clear the Bank financial management paper?". And answer to that is – no doubt Macmillan is very good book but the professional language and the difficult terms make it very much difficult for the candidates to understand the basic concepts.
How to Clear the Basics for CAIIB then!
But do not worry we have bilingual full video course for you. This is basically a Hindi mix English language video course. And you can easily understand each and every concept with proper clarity. Every situation has been explained in very practical manner with proper examples wherever required. Moreover, we have covered more than 80+ case studies in our videos.
That's not the end, you also get memory record previous year chapter wise questions paper of Caiib. So that is all you need to cover to crack CAIIB exam in one attempt. Watch this video on case study over foreign exchange which is a very important topic in JAIIB as well as CAIIB:
YOU MAY ALSO LIKE:
Also Like: