IIBF CAIIB ABM LATEST SYLLABUS AND LATEST CAIIB ABM STUDY MATERIAL 2022
ABM SYLLABUS AND STUDY MATERIAL 2022:
As the IIBF had notified last year (2022) the revised syllabus for CAIIB papers including the paper of ABM, the candidates preparing for the November & December CAIIB attempt 2022, might be quite in confusion as to which syllabus is applicable for them.
CAIIB ABM - Advanced Bank Management Syllabus Priority
Check Here
————————————————————-
Bank Financial Management - BFM Syllabus Priority
Check Here
————————————————————-
110+ CAIIB Case Study Videos
Check here
————————————————————-
ABM BFM Retail Previous Year Questions
Get Tests Here
————————————————————-
Full Course Videos in Hindi English
Check Here
In this article, we will give you the details of the syllabus that is applicable for the Nov 2022 Exams.
CAIIB EXAMS NOV / DEC 2022
CAIIB Exams are conducted for the bankers who are the junior associates of IIBF (cleared JAIIB). Qualifying the CAIIB (Certified Associate) Exam gets you the benefit of one increment in advance and they can work in their desired field as per their chosen elective.
If you are planning to write for CAIIB NOV / DEC 2022 then you must get ready for registrations of CAIIB papers as the registrations for CAIIB 2022 NOV / DEC attempt have long since been notified & due to start from 30.09.22. You can find the IIBF notification for the exam schedule of CAIIB 2022 here.
ALSO VISIT -> IIBF CAIIB CLASSES SCHEDULED FOR EXAMS 2022
CAIIB ABM SYLLABUS FOR 2022
The syllabus applicable for Advanced Bank Management is divided into 4 modules, namely:
Economic Analysis

Business Mathematics

Credit Management

Human Resource Management in Banks
You can read the detailed syllabus of ABM paper from the table given after the Study Material below.
And to remove the confusion about the CAIIB Exams, you must know that the Institute has not confirmed that the revised syllabus that was notified is applicable. So, the old syllabus is applicable for the Nov & Dec attempt this year.
Read Also:- IIBF CAIIB BFM SYLLABUS AND STUDY MATERIAL 2022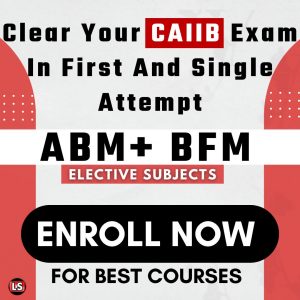 CAIIB ABM LATEST STUDY MATERIAL 2022
Learning Sessions brings you an exclusive package of CAIIB ABM Study Material. ABM CAIIB Study material 2022 has been prepared by the expert faculty at Learning Sessions which teaches CAIIB subjects. As you know it comes in handy to have proper guidance & good resources for the preparation of CAIIB 2022, therefore, we, Learning Sessions, have brought you CAIIB's ABM paper Exams' Study Material which is comprehensive & provides conceptual clarity on the advanced management of bank & is enough to clear the said Exam in 1 attempt.
The collection of Learning Sessions CAIIB ABM (as well as other CAIIB subjects) Study Material includes Online ABM Live Classes, Recorded Video Lectures of Bank Management, Epdfs, Case studies, Mega Mock tests, Chapter-wise tests, Questions from the previous year exams.
Read Also:- IIBF CAIIB ABM RECOLLECTED QUESTIONS FOR 2021-2022 EXAM
CAIIB ABM Online Live Classes:
Learning Sessions online Live Classes cover all the topics of ABM as per the latest & updated syllabus 2022 that have been prescribed by IIBF. The lectures on bank management are delivered using bilingual (English mixed with Hindi) as well as only English so as to give the aspirants a choice to study in the language you are better able to understand.
ABM CAIIB Video Courses:
CAIIB Video Courses by Learning Sessions are designed for those aspirants who are unable to devote time for live classes of ABM. The Video course is available in 2 languages i.e bilingual (English mix Hindi) & English only. The Video Courses at Learning Sessions are recorded by the subject experts who have years of teaching experience.
CAIIB ABM EPDFs
EPDFs are brief & handy sources for revising any syllabus after the candidates have watched the ABM video lectures. Learning Sessions advanced bank management EPDFs are available on our android application only as a complementary material along with the video packs.
CAIIB Test Series 2022
When you prepare for the CAIIB Exams, it's also crucial that do some self-assessment. And as IIBF doesn't take any Mocks, you can go through the Test series on paper of law provided by Learning Sessions. There are more than 1500 questions available for you to solve that will surely increase your confidence after solving them. These mock tests are prepared by the subject experts as per the ABM updated syllabus and also include questions from the previous year's papers.
Access the CAIIB courses through:
You can even avail the Free ABM Mock Tests that are available at IIBF.INFO by signing up for the CAIIB.
Read Also:- IIBF CAIIB ABM MOCK TESTS – Advanced Bank Management 2022
Design of Learning Sessions ABM CAIIB Course
We, Learning Sessions, have designed the CAIIB ABM course with the help of subject experts who are well versed with subject of ABM 2022 syllabus of Certified Associates Exam. While preparing the ABM material it has also been kept in mind that we focus on the examination-oriented questions, to increase the students' chance to qualify. We consider all the below matters while we prepare the CAIIB course:
The ABM Latest Exam pattern & exam trends.

CAIIB syllabus 2022 & the questions pattern of ABM 2022 that have been asked.

Explanations of Q&A along with videos

All the study material to crack ABM (videos, epdfs, tests) at one place

Detailed explanation to provide conceptual clarity.

Affordable packs of ABM Study material.

Easily accessibility of material (web as well as app access).
So, hurry up & place an order to for Learning Sessions ABM Course for 2022 attempt & you can even avail of our 'NEWYEAR' offer of Mega 80% OFF on our listed packs of CAIIB!!
IIBF CAIIB ABM SYLLABUS FOR
NOV / DEC
2022:-
ADVANCED BANK MANAGEMENT
MODULES
UNITS
Economic Analysis

This unit introduces to the fundamentals of Economics from the prospective of Scarcity & Efficiency of Market, Command & Mixed Economies, Microeconomics & Macroeconomics in brief, the Types of economies; Macroeconomics: the Business cycles that run inside it; Money and banking; the problem of Unemployment & inflation; determination of Interest rate & the types of interest rates.

The unit aims to provide an overview of the Indian economy about the recent reforms; Interactions among monetary, fiscal & exchange rate policies in India, and Financial Markets such as Capital Market, Money Market, Foreign Exchange Market; Globalization & its impact; the prospective Challenges foreseeable in the future, Banking & Finance & the current issues related to it etc.

Business Mathematics

The unit provides insight on the Concept of time Value of Money: NPV-Net Present Value, Discounted Cash Flow, and some Sampling methods including description of how to present the data, analysis & interpretation of sample data, testing of hypothesis etc.

We will learn how to do the Time series analysis, you also get introduced to mean, standard deviation, Regression, correlation, covariance & volatility; Probability distribution, duration, Confidence interval analysis, Bond valuation, estimating the parameters of distribution & modified duration.

This unit on the Linear programming explains the concepts related to decision making, simulation, Statistical analysis using spreadsheets along with the features of Spread sheets, pivot table, Macros, statistical & formulas of mathematics etc.

HRM in Banks
The whole module on HRM (Human resource management) has only one unit that describes the fundamentals of HRM, how HRM is developed in India, Relationship between HRM & HRD (Human Resource Development), Structure & functions of HRD, role and impact of training, career path planning & counseling, Role of HR professional, behavior of employee, the theories of motivation and their practical implications, training & development, attitude & soft skills development, role concepts & analysis, self-development. The concepts related to Performance Management & appraisal systems such as Reward & punishment and compensation systems etc also form its part. The relation between HRM & Information Technology, information & data management, the meaning of knowledge management etc will be seen in this module.
Credit Management

The unit talks about the Principles of Credit Management, Analyzing the Credit Appraisal, the meaning of Financial Performance, Relationship between various items of Balance Sheet & Profit and Loss A/C. Trend Analysis through Comparative & Common Size Statement & learn how to prepare projected Financial Statements. All about the Ratio analysis such as their interpretation and the analysis of different Ratios, the limitation on the use of these ratios, preparation of Statement of Sources and Applications of Funds are some topics discussed in the unit.

The unit provides details on the Structure a Credit Proposal, Working Capital Concept & Management Appraisal techniques for different constituents: trade cycle, credit rating, Debt Service Coverage Ratio, Cash Budget, Technical & economic feasibility studies, Cash Flow Analysis; Credit Rating that will include Rating Methodology, Objectives and benefits of rating; the meaning of Term Lending, Documentation in all this regard; Deferred Payment Guarantee, Bill Finance, Credit Scoring, Credit Delivery System, Post sanction supervision, Control & monitoring of credit, Consortium finance, Multiple banking, Syndication of loans, & Infrastructure financing.

This unit describes the method on how to deal with credit defaults, Stressed assets; how the Corporate Debt is restructured, Laws related to control/deal the credit defaults such as SARFAESI, NPAs, recovery options, write-offs. The Disclosure requirements for the list of defaulters: objectives & procedure and Appraisal methodology for different type of clients or products etc.
Read Also:- IIBF CAIIB ABM QUESTION PDF – Advanced Bank Management
Other related links:
| | |
| --- | --- |
| ABM Paper Economic Terms Very Important | Terms |
| Advance Bank Management Important Formulae | Formulae |
| CAIIB ABM Recollected Questions to prepare for Exam | Exams |
| ABM – Economic Reforms Part 1 | Part-1 |
| CAIIB ABM Notes – Advanced Bank Management Short Notes | Part 1 |
| CAIIB ABM Notes – Advanced Bank Management Short Notes | Part 2 |
| CAIIB ABM MOCK TESTS | Mock |
FOR ANY QUERY & BEST OFFERS
On CAIIB or other Certification Exams, message us:
Whatsapp: 8360944207
For Exam Materials visit: iibf.info
You can also join us on
All the Best for your Exams!
Team: Learning Sessions
Also Like: