JAIIB CLASS OCT 2023 SCHEDULED
In this article, we will discuss the schedule for the JAIIB Oct EXAM 2023, what the packages will include, the Subjects covered in our study material, Mock tests available, the JAIIB Syllabus Oct 2023, and a brief insight into the mind of our tutors.
JAIIB EXAM
JAIIB exam 2023 Oct is around the corner, and we want you to be fully prepared for the JAIIB Exam 2023, so we have come up with the schedule for JAIIB Classes Oct 20223 to get you up to speed with your preparation as it is time to fasten your seat belts for JAIIB exam Oct 2023. To make your preparation much more accessible, we have developed JAIIB Study Material Oct 2023.
Full Course Videos in Hindi English
Check Here
————————————————————-
jaiib ppb short notes part 1
Check Here
————————————————————-
jaiib exam free study material
Check here
————————————————————-
jaiib study material pdf notes 2023
Get Tests Here
————————————————————-
how to prepare for ppb
Check Here
Before we move on with the article, we need to know what JAIIB is and what it entails.
An excellent job option with lots of room for advancement in banking. It dominates the nation's finance sector, undergoing significant structural changes due to recent technology.
The JAIIB exam is administered by the Indian Institute of Banking and Finance (IIBF) to help bankers and other financial professionals keep ahead of the competition. Junior Associate of Indian Institute of Bankers is referred to as JAIIB.
READ ALSO: JAIIB Oct syllabus 2023
Three papers comprise this flagship course/examination, further divided into modules and chapters. Members of the institute and staff from a few nationally renowned banks are eligible to take this online exam.
The biannual assessment measures a banker's thorough understanding of the operational and technical topics used daily.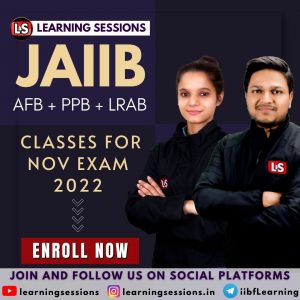 SCHEDULE
Classes for all four subjects of JAIIB May 2023 will soon be scheduled as in the order given below .
IE & IFS TIMINGS
You may expect classes of IE & IFS to start in August
| | |
| --- | --- |
| DAYS | TIMINGS |
| Monday to Friday | 7:30 AM |
| Sunday | 9:45 AM (subject to change) |
MODULE: B
Module C
Module D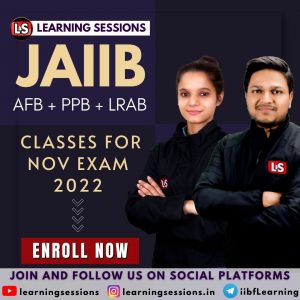 PPB classes may too start in the August
PPB TIMINGS
| | |
| --- | --- |
| DAYS | TIMINGS |
| Monday to Friday | 7:30 AM |
| Sunday | 9:45 AM (subject to change) |
MODULE: A
MODULE: B
MODULE: C
MODULE: D
What will you get in the JAIIB pack?
Live and recorded full course videos updated according to the latest JAIIB 2023 syllabus.

4500+ Chapter wise previous year questions.

Mock tests

Mega mock tests

ePDF notes are complementary to our paid video lectures.

Our ePDF notes are accessible on our apps- two for Android users- 'IIBF LEARNING CENTER' and ' 'Learning sessions pro'; and one for iOS users- 'MY INSTITUTE APP.'

The validity of this pack is about six months.
READ ALSO: CHANGING JAIIB EXAM CENTRE FOR OCT JAIIB 2023
JAIIB TUTORS
We have the best team of tutors at your disposal who work with complete dedication and are experienced. We have mainly two tutors with us – Ashish Jain and Sandhya.
Ashish Jain- He is an ex-banker with seven years of credit department expertise. He has already provided 1,25,000+ candidates with my services and 900+ hours of online instruction. He has prepared and given lectures on a variety of topics, including information technology, digital banking, risk management, treasury management, KYC/AML, MSME, and many more.
Sandhya- She has a B.Com (Hons.). I have given more than 600 hours of lessons online and have already instructed more than 1000+ candidates. She has prepared and given lessons on the PPB, AFB, and LRAB tests.
Subjects Covered
Mainly four subjects are involved in the JAIIB exam in Oct 2023:
IE & IFS (Indian economy and Indian financial system)

PPB ( Principles and practices of banking)

AFM (Accounting and financial management)

RBWM (Retail banking and wealth management)
Many students struggle with paper 2, which is AFM – accounting and financial management for bankers, but you shouldn't worry about it. Your learning of accounting (AFM) will go a long way thanks to our top-notch study materials for the JAIIB. You may learn all the topics extremely quickly and easily in just seven days. AFM consists of the following modules:
Accounting principles and processes

Financial statements and core banking system

Financial management

Taxation and fundamentals of costing
Is this the most straightforward PPB exam?
The JAIIB exam called Principles and Practices of Banking (PPB) is thought to be the simplest. But be cautious; these days, the fundamentals and practice exam questions can be challenging. However, our staff has made every effort during learning sessions to use case studies, examples, and questions from previous years' memory to make it simpler to understand all the ideas of, principles, and practices of banking. PPB notes include the following modules:
General banking operations

Functions of banks

Banking technology

Ethics in banks and financial institutions
STUDY MATERIAL
We have compiled the study material for 2023 according to the latest syllabus. Our notes, which are there in the form of ePDFs, are short and precise which would save a lot of your time and help you revise the entire syllabus in a concise amount of time. Our recorded videos are both a mixture of Hindi and English to make it easier for you all to understand the concepts. You can easily comprehend the topics with our study material as it is the most efficient way to study and pass the JAIIB exam in Oct 2023 in one attempt.
The Indian economy and Indian financial system, principles and practices of banking, accounting, and financial management for the bankers, as well as the rural banking and wealth management, are all covered in full course videos. Simply watch our chapter-by-chapter video course to learn the fundamental ideas needed to answer any inquiry. Exam questions these days are tricky rather than challenging. You can therefore understand all the concepts linked to the JAIIB by watching these videos. 83 percent of our candidates passed the 2021 exam.
And now is the perfect moment for JAIIB applicants 2023 who want to have a successful career in the banking industry to make a mark on their preparation as the competition is becoming more and more fierce.
READ ALSO: 7 DAYS STRATEGY TO PASS JAIIB IN ONE ATTEMPT
MOCK TESTS
Regardless of the financial situation of the candidates, Learning Sessions aims to ensure that any candidate preparing for a banking exam, whether it be an internal promotion exam or one of IIBF's other certification courses, has access to the JAIIB's top study materials for 2022.
You can solve our mock tests up to a maximum of 5 times and compare the results later on to improve your performance. Our simulated tests include memory recalled questions. These questions vary in their level of difficulty from easy to complex so you get a variety of questions and know how to tackle those questions.
JAIIB Syllabus November 2023
Paper I – Indian economy and Indian financial system
Module A: Economic architecture
1. Indian Economy: Overview
2. Sectors in India
3. Economic Planning & NITI Aayog
4. Priority Sector & MSME in India
5. Infrastructure, incl. Social Infrastructure
6. Globalization's Impact on India
7. Economic Reforms in India
8. Foreign Trade Policy
9. Foreign Investments & Development
10. International Economic Organizations
11. Climate Change & Indian Economy
12. Sustainable Development Goals (SDGs)
13. Issues in Indian Economy
Module B: Banking related economic concepts
1. Fundamentals of Economics: Microeconomics and Macroeconomics
2. Types of Economies
3. Supply and Demand
4. Money Supply and Inflation
5. Theories of Interest
6. Business Cycles
7. Monetary Policy and Fiscal Policy
8. System of National Accounts and GDP Concepts
9. Union Budget
Module C: Financial architecture
1. Indian Financial System: Overview
2. Indian Banking Structure
3. Banking Laws: RBI Act, 1934 & Banking Regulation Act, 1949
4. Development Financial Institutions
5. Micro Finance Institutions
6. Non-Banking Financial Companies (NBFCs)
7. Insurance Companies
8. Financial System Regulators & Their Roles
9. Reforms & Developments in the Banking Sector
Module D: Financial products & services
1. Financial Markets: Overview
2. Money Markets
3. Capital Markets and Stock Exchanges
4. Fixed Income Markets: Debt and Bond Markets
5. Foreign Exchange Markets
6. Interconnectedness and Dynamics of Markets
7. Merchant Banking Services
8. Derivatives Market
9. Factoring, Forfaiting, and TReDS (Trade Receivables Discounting System)
10. Venture Capital
11. Lease Finance and Hire Purchase
12. Credit Rating and Credit Scoring
13. Mutual Funds
14. Insurance and Pension Products
15. Para Banking and Financial Services by Banks
16. Real Estate Investment Trusts (REITs) and Infrastructure Investment Trusts (InvITs)
PAPER 2 – Principles & Practices of Banking
INTRODUCTION TO MODULE A: Banking operations
Banker-Customer Relationship, AML-KYC Guidelines, Operational Aspects of KYC, Opening Accounts, Deposit Accounts, Clearing/Collection/Cash Handling, Banker's Special Relationship, Foreign Exchange Remittance, NRI Business, Foreign Currency Accounts, Cash Management, Payment and Collection of Instruments, Paying and Collecting Bank Responsibilities, Ancillary Services, Financial Inclusion & Literacy, Customer Service Guidelines, Duties & Rights, Grievance Redressal & RBI Ombudsman Scheme, Consumer Protection Act, Right to Information Act.
Functions of Banks (MODULE B)
Principles of Lending, Types of Borrowers, Credit Facilities, Appraisal of Credit, Operational Loan Accounts, Collaterals, Charging Securities, Documentation, Non-Performing Assets, Recovery Laws, Indemnity & Guarantee Contracts, Bank Guarantee, Letters of Credit, Bill Finance Laws, Personal Finance, Priority Sector Advances, Agricultural Finance, MFIs/Co-Lending, MSMEs, Government Schemes, Self-Help Groups.
BANKING TECHNOLOGY MODULE C
Bank Computerisation Essentials, CBS Operational Aspects, Digital Banking & Delivery Channels, Data Communication & EFT Systems, NPCI Digital Payment Systems, Technology Impact & Trends in Banking, Security Measures in Banks, Cyber Crime/Fraud Risk Management, Technology Trends, e-RUPI, Fintech – RegTech, SupTech, Hashtag Banking.
MODULE D, Ethics
Ethics, Business Ethics & Banking, Individual Level Ethics, Employee Ethical Dimensions, Work Ethics, Workplace Ethics, Changing Dynamics of Banking Ethics.
PAPER 3 – AFM (Accounting and financial management)
Module A: Principles and processes of accounting
Definition, Scope & Accounting Standards (Ind AS), Basic Accountancy Procedures, Cash/Subsidiary Books and Ledger, Bank Reconciliation, Trial Balance, Rectification of Errors, Adjusting & Closing Entries, Depreciation Accounting, Capital and Revenue Expenditure, Bills of Exchange, Operational Accounting Entries, Back Office Functions/Reconciled Entries, Bank Audit & Inspection.
Module B: Financial Statements and Core Banking Systems
Balance Sheet Equation, Final Accounts Preparation, Company Accounts-I & II, Cash Flow and Funds Flow, Banking Companies' Final Accounts, Core Banking Systems and Computerized Accounting Environment.
Module C: Financial management
Financial Management – Overview, Ratio Analysis, Calculation of Interest and Annuities, YTM Calculation, Forex Arithmetic, Capital Structure and Cost of Capital, Capital Investment Decisions and Term Loans, Equipment Leasing and Lease Financing, Working Capital Management, Derivatives.
Module D: Fundamentals of costing and taxation
Budgets and budgetary control, Goods and Services Tax, Tax/TDS/Deferred Tax, An Overview of Cost & Management Accounting, Costing Methods, Standard Costing, Marginal Costing.
READ ALSO: INCREMENTS TO BANKERS ON QUALIFYING JAIIB EXAM 2022
PAPER 4 – Retail banking and wealth management
Module A: Retail banking
Introduction to retail banking; its role in bank operations; its applicability; the distinction between retail and corporate/wholesale banking; and its branch profitability
Module B: Retail products and recovery
Needs of the customer, Product Development Process, Credit Scoring, Key Retail Asset Products, Key Retail Liability Products, Key Retail Payment Methods, Products for remittance, retail banking products being digitalized, The role of technology and AI in retail banking, Retail Loan Recovery, Information Management Systems, Securitization
Module C: Support Services- Banking Services/Products Marketing
An introduction to marketing, delivery channels for retail banking, delivery models, customer relationship management for retail banking, service standards for retail banking, and a longitudinal analysis of marketing information systems
Module D: Wealth management
Important Financial Services Offered by Banks Include Wealth Management, Investment Management, Tax Planning, and Other Financial Services.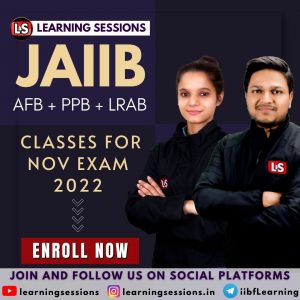 Finally, we would like to wish you luck on your upcoming exams for principles and practices of banking, advanced bank management, Indian economy and Indian financial system, and retail banking and wealth management. We hope to be able to offer you the most fantastic study materials available for the JAIIB paper.
CONTACT US
Message any query or to know the best offers on the CAIIB or other Certification Exams
You can also join us on
All the Best for your Exams!
Team: Learning Sessions