CAIIB RETAIL BANKING STUDY MATERIAL, SYLLABUS & PDF NOTES 2023
Retail Banking
This article is on the CAIIB elective paper on Retail Banking as prescribed by IIBF. You will get to read about the CAIIB Exam, Retail Banking Study Material, Retail Banking Video Classes, epdfs & how they can be accessed to ace your CAIIB exams by covering the Latest prescribed Retail Banking Syllabus 2023.
CAIIB EXAM JUNE 2023.
The CAIIB exam is conducted by the Indian Institute of Banking & Finance (IIBF) two times a year. The CAIIB exam syllabus includes three subjects out of which 2 are compulsory subjects i.e. (ABM) Advanced Bank Management & (BFM) Bank Financial Management. The 3rd subject is elective in which the candidates have to choose 01 subject out of the 06 elective options available. Retail Banking is one of the most important and commonly preferred subjects among them because it's easy to understand & the bankers usually know much more about it than any other subject that is available.
CAIIB ABM - Advanced Bank Management Syllabus Priority
Check Here
————————————————————-
Bank Financial Management - BFM Syllabus Priority
Check Here
————————————————————-
110+ CAIIB Case Study Videos
Check here
————————————————————-
ABM BFM Retail Previous Year Questions
Get Tests Here
————————————————————-
Full Course Videos in Hindi English
Check Here
————————————————————-
ABFM and BRBL Courses now available
Click Here
CAIIB Crash course
All your doubts regarding the CAIIB Retail Banking exam, Retail Banking syllabus, Retail Banking study material, questions, mock tests, and retail banking pdf notes will be cleared after you have read the article in detail.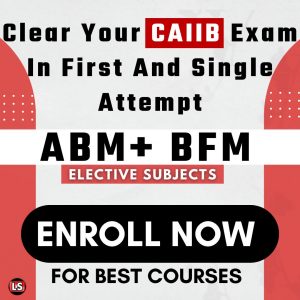 CAIIB RETAIL BANKING EXAM ELIGIBILITY CRITERIA 2023
Members who have completed JAIIB or PART-1 of the Associate Examination.
They should not be having any membership subscriptions in arrears.
Read Also:- IIBF CAIIB LATEST SYLLABUS
RETAIL BANKING EXAM PATTERN JUNE/ DEC 2023
The pattern of the CAIIB retail banking exam as per the latest notification by IIBF is listed in the table below:
| | |
| --- | --- |
| Mode of exam | Online mode only |
| Duration of exam | 120 min |
| No. of questions | 100 MCQ-type questions |
| Total Marks | 100 marks |
| Medium of examination*** | Bilingual i.e Hindi and English both |
| Minimum passing marks | 50 out of 100 |
***Candidates must specify their choice of medium at the time of applying for the exam as it cannot be changed at a later stage.
Important Topic:- How To Clear CAIIB In One Attempt
CAIIB RETAIL BANKING EXAM LATEST SYLLABUS FOR JUNE/DEC 2023
As per the syllabus published by IIBF for the CAIIB Retail Banking exam 2023, Digital Banking has now been added as an additional topic in retail banking itself.
The various modules and topics covered in the Retail Banking exam syllabus including digital banking are mentioned below for the upcoming CAIIB Exams:
Read Also:- Retail Banking Notes for CAIIB – Part 1
RETAIL BANKING MODULES
TOPICS
MODULE – A: Introduction

History and definition
Role within the bank operations
Applicability of
Retailing concepts distinction between Retail and Corporate / Wholesale Banking

MODULE – B: Retail Products

Retail Products Overview.
The approval process for retail loans, and credit scoring.
Important Asset Products such as Home Loans, Auto / Vehicle Loans, Educational Loans, Credit / Debit Cards,  Other Products / Remittances / Funds Transfer.

MODULE – C: Marketing/ Selling of retail products, MIS and Accounting

Delivery Channels.
Selling Process in Retail products-Direct Selling Agents.
Customer Relationship Management.
Regulations and compliance

Technology for Retail Banking
Accounting entries

MODULE D: Other Issues of Retail Bank

Securitisation, mortgage-based securities.
Trends in retailing – New products like Insurance, Demat services, online / Phone Banking, Property services, Investment advisory / Wealth management, Reverse Mortgage – Growth of e-banking, Cross-selling opportunities.
Recovery of Retail Loans – Defaults, Rescheduling, recovery process.
SARAFAESI Act, DRT Act, use of Lok Adalat forum. Recovery Agents – RBI guidelines.

MODULE: DIGITAL BANKING
Digital Banking Products, Cards, EMV technology, ATMs, Cash Deposit machines, Cash Recyclers, Mobile Banking, Internet Banking, POS terminals, Branchless Banking, Payment Systems, Marketing of Digital Banking Products, New Developments
Detailed Syllabus:-  Retail Banking Exam Syllabus
RETAIL BANKING LATEST STUDY MATERIAL, QUESTIONS, PDF NOTES FOR DEC 2023
We at Learning Sessions are providing the entire retail banking exam study material as per the latest syllabus covering all the topics module-wise in both Hindi mix English languages. It includes full course videos covering digital banking as well, chapter-wise previous year questions & mock tests which will definitely help the students to prepare effectively and effortlessly for the exam.
Further, retail banking exam pdf notes are also available covering all the modules of retail banking + digital banking which will ensure sure success in the CAIIB retail banking exam in one go.
Important Topic:- Retail Banking study notes
Full Course:- Retail Banking full video course study material
FREQUENTLY ASKED QUESTIONS (FAQs)
Q. What type of questions are asked in the IIBF Retail Banking exam?
A. The retail banking exam includes objective-type multiple-choice questions only.
Q. Is there any negative marking scheme in the CAIIB exam 2023?
A. No, there is no provision for negative marking in the CAIIB exam 2023.
Q. Is Digital banking a part of the retail banking exam?
A. Yes, as per the CAIIB 2023 syllabus published by IIBF, the retail banking exam will now include the digital banking topic as well.
Q. How many attempts are available for CAIIB retail banking exam?
A. A candidate can have a maximum of four attempts for the CAIIB  retail banking exam.
Read Also:- DIGITAL BANKING IN RETAIL BANKING
Also Like: