CAIIB ABM NOV / DEC 2022 SYLLABUS & LATEST STUDY MATERIAL 2022
In this article, we will talk about the ABM Nov/Dec Syllabus & Study Material which is as per the latest applicable Syllabus
CAIIB ABM - Advanced Bank Management Syllabus Priority
Check Here
————————————————————-
Bank Financial Management - BFM Syllabus Priority
Check Here
————————————————————-
110+ CAIIB Case Study Videos
Check here
————————————————————-
ABM BFM Retail Previous Year Questions
Get Tests Here
————————————————————-
Full Course Videos in Hindi English
Check Here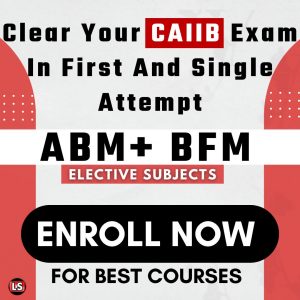 CAIIB is the short form for Certified Associate of Indian Institute of Bankers. It is an examination conducted by the Indian Institute of Banking and Finance (IIBF) twice a year to test the advanced ways of decision making and common bank management skills and is applicable only to the existing members of IIBF.
This year, the June Exams are already done with while the December Exams are due from 27th of November 2022. The registrations will begin from the 30th September & if you have cleared JAIIB, you can register for this exam too.
As per the syllabus of the CAIIB exam 2022, there will be a total of 3 papers in the exam of CAIIB 2022 out of which there will be 2 compulsory papers i.e. Advanced Bank Management, Bank Financial Management and one elective paper from the 6 choices available for options (mentioned underneath) for the upcoming exams of CAIIB 2022.
Read Also:- CAIIB EXAM DATE 2022
The 2 compulsory subjects are :
ABM i.e. Advanced Banking Management
BFM i.e. Bank Financial Management
The candidates will get a choice of 06 subjects out of which they have to select any one elective subject. These are –
Rural Banking
Retail Banking
Information Technology
Risk Management
Central Banking
Read Also:- CAIIB: BFM ABM in one Attempt
CAIIB ABM LATEST STUDY MATERIAL 2022
ABM or Advanced Bank Management is considered to be one of the difficult subjects in the CAIIB exam because the topics which are covered in these two exams are not generally covered in general banking.
But you can easily clear the ABM exam by going through our study material which includes full course videos covering all the modules and topics in Hindi mix English language, 5000+ chapter wise previous year questions, and quick notes.
We also provide free mock tests and sample papers which makes it easier to learn the concepts and also gives you an idea about the type of questions that are being asked in the exams.
Click here for ABM Full course videos.
Click ABM ePDF Notes.
You can avail full Study material for the paper of Advanced Bank Management or any other exam of CAIIB NOV 2022 such as BFM, retail or IT or other available subjects of CAIIB 2022. The CAIIB candidates can get the combo course or separate course of CAIIB papers for their attempt.
The CAIIB study material is as per the latest applicable syllabus of CAIIB as prescribed by IIBF. The concepts are easy to clear with these videos & you can watch the demo lectures of CAIIB ABM or BFM or any other paper on Youtube.
To check them out visit:
For Exam Materials: iibf.info
You can even download the mobile applications to access the CAIIB Course. The links to install the apps are given at the end of the article.
CAIIB ABM SYLLABUS 2022 NOV / DEC EXAMS
There is a total of 4 modules in the ABM subject which further include various topics. As the exams are just about a month away, you must take a look at the topics covered under the syllabus of Advanced Banking Management as per the latest CAIIB syllabus 2022 prescribed by the institute (IIBF) for November & December 2022 Exams to avoid missing any important topic.
The ABM syllabus 2022 is given below:
Read Also:- CAIIB EXAM NEW SYLLABUS AND LATEST STUDY MATERIAL 2022
MODULES
TOPICS
Module – A: Economic Analysis
1. The fundamentals of economics.
2. Micro Economics.
3. Macro Economics.
4. Indian Economy.
Module – B: Business Mathematics
1. Concept of Time Value of Money.
2. Sampling methods.
3. Presentation of data.
4. Analysis and interpretation of sample data.
5. Hypothesis testing.
6. Time series analysis.
7. Mean.
8. Standard deviation.
9. Co-relation.
10. Regression.
11. Covariance and volatility.
12. Probability distribution.
13. Linear programming.
Module – C: HRM in banks
1. Fundamentals of HRM.
2. Structure and functions of HRD.
3. Role of the HR professional.
4. Performance Management and appraisal systems.
5. HRM and Information Technology.
Module – D: Credit Management
1. Principles of Credit Management.
2. Credit Appraisal.
3. Comparative Statement.
4. Structuring a Credit Proposal.
5. Disclosure of the list of defaulters.
6. Appraisal methodology for different type of clients.
Click here for detailed CAIIB 2022 syllabus.
CAIIB 2022 EXAM NOTIFICATION
IIBF Indian Institute of Banking and Finance has released the tentative schedule of CAIIB exam 2022 on its official website i.e www.iibf.org.in
The table below shows all the important dates related to the CAIIB Exam 2022.
| | | |
| --- | --- | --- |
| SUBJECT | SCHEDULED DATE | REGISTRATION DATE |
| Advanced Bank Management (ABM) | 27th Nov 2022 | START DATE: 30th Sept 2022 |
| Bank Financial Management (BFM) | 4th Dec 2022 | |
| CAIIB Elective Subjects: | 10th Dec 2022 | END DATE: 20th Oct 2022 |
***The exam will be held in online mode only and the time of exam will be mentioned in the admission letter.
Read Also:- CAIIB ABM NOTES 2022
You can check out the detailed November 2022 registration & Exam dates here.
EXAMINATION FEES for CAIIB 2022
The examination fee for the CAIIB exam 2022 for eligible members is provided below.
| | |
| --- | --- |
| Number of attempts | Examination Fee |
| First attempt fee | Rs.3000/- |
| Second attempt fee | Rs.1300/- |
| Third attempt fee | Rs.1300/- |
| Fourth attempt fee | Rs.1300/- |
Note: GST @18% will also be applicable on the above mentioned fee & it will also be applicable over & above the normal fees if candidates register for the exam in 2nd or later week of the registration process.
So, be sure to register for CAIIB NOV 2022 within the 1st week to avail extra charges.
You May Also Like:
Also Like: