Retail Banking Notes for CAIIB – Part 1
This article on the short notes of CAIIB is provided to help the candidates who might struggle with reading the full book texts. The notes have been prepared to keep in mind the applicable Syllabus of the Retail Banking Paper of the DEC CAIIB Exam 2024.
CAIIB ABM - Advanced Bank Management Syllabus Priority
Check Here
————————————————————-
Bank Financial Management - BFM Syllabus Priority
Check Here
————————————————————-
110+ CAIIB Case Study Videos
Check here
————————————————————-
ABM BFM Retail Previous Year Questions
Get Tests Here
————————————————————-
Full Course Videos in Hindi English
Check Here
————————————————————-
ABFM and BRBL Courses now available
Click Here
CAIIB Crash course
CAIIB NOV / DEC EXAM 2024
Exams of CAIIB are conducted by IIBF. CAIIB is one of many flagship courses offered by IIBF, twice in a year. It is conducted in the months of June & December every year. This course of CAIIB has a total of 3 subjects out of which 2 are compulsory and Retail Banking is one of the electives. And this pattern is going to be the last time that IIBF will conduct the exams in current syllabus 2024. So, better study now & pass the exam than to shift it on June 2024.
We hereby are providing you the easy notes that will help you revise the topics you have read so far for 2024 Exams. So, read on & may you pass Dec CAIIB Exams! And we also have crash course that will get you studying for 10 to 12 hours straight to cover up the whole syllabus of Retail Banking. If interested, click here & contact us.)
CAIIB Retail Banking (short notes) has been prepared based on the 4 modules which are further divided into several units.
To check out the detailed syllabus of CAIIB- ABM, BFM & other electives click here.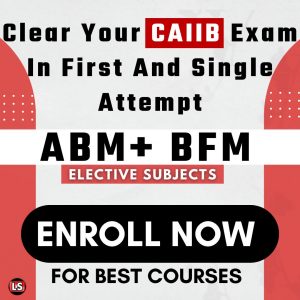 YOU CAN ALSO ACCESS THE CAIIB NOTES WITH OUR CAIIB VIDEO COURSES FOR NOV / DEC 2023
RETAIL BANKING NOTES FOR CAIIB NOV / DEC 2023
CAIIB RETAIL BANKING MODULE – A: INTRODUCTION
Unit – 1: Retail Banking – Introduction
RETAIL BANKING: "Retail Banking is a banking service which is geared primarily toward individual consumers." Its main focus strictly lies on consumer markets, unlike wholesale banking.
Read Also:- CAIIB RETAIL BANKING STUDY MATERIAL, SYLLABUS & PDF NOTES
Extended to Small & medium businesses: Although retail banking is mass-market driven, many of its products may also extend to small & medium sized businesses.
Pure Retail Banking: It is generally conceived to be the provision of mass market banking services provided to private individuals.
Attractive interest spreads: As the spreads are wide and since customers are too fragmented to bargain effectively; Credit risk tends to be well diversified because the loan amounts are relatively small.
Less Volatility: Retail Banking has less volatility in demand & its credit cycle than from large corporates or whole sale banking. Though there are higher delinquencies especially in unsecured retail loans & credit card receivables in retail.
In some banks, Retail Banking is christened as consumer banking because the focus is towards individual consumers.
Capgemini., ING and the European Financial Management & Marketing Association (EFMA) have studied the global Retail Banking market with the purpose of providing insights to financial services community through the World Retail Banking Report (also known as WRBR).
The pricing indices were developed based on 3 usage patterns: 
Less Active, 

Active And 

Very Active Users.
Read Also:- IIBF CAIIB RETAIL BANKING SYLLABUS 2024
Telegraph: Telegraph was introduced in the early 1850s that made the process of communication & information exchange faster and also reduced the price differentials among stock markets.
Banking services follow the standard industrial development pattern in which prices decline with the maturity.
Interest Income: The share of interest income has almost remained steady at about 84% & the share of non-interest income also has almost been stable at around 16%. This shows that there were not really any serious efforts by banks to increase the non-interest income through fee-based products or 3rd party distribution models.
PSBs Initiative: Retail Banking as a concept in India has been initiated by the Public Sector Banks and has been nurtured by the foreign banks and new generation private sector banks.
Read Also:- IIBF CAIIB RETAIL BANKING RECOLLECTED QUESTIONS 2024-2025
Growth: Retail Banking had grown by a compounded annual growth rate of 30.5% between 1999 & 2004 and was expected to grow at above 30% in 2010.
But still the penetration level of retail banking in India is very low if it were to be compared to the other Asian countries like China, Thailand, Malaysia, etc.
Read Also:- BFM Previous Year Question Papers (Bank Financial Management) PDF Free Download
Retail Banking Objectives of any bank supposedly focus on the following:
Generating superior returns on the assets.

Acquiring sufficient fundings

Enhancing the risk management

Understanding customers and gaining as well as regaining their trust.

Coping with raised demands regarding transparency of product and overall service levels.

Achieving multi-channel excellence with fully integrated banking channels.

Moving toward higher industrialization levels.
Important Topic:- IIBF CAIIB RETAIL BANKING STUDY MATERIAL 2024
Unit – 2: Retail Banking – Role within the Bank Operations
Business Model of Retail Banks: The business models for retail banking reflects some interesting revelations across the different banks. The models that are adopted by various banks vary among the public sector, private sector & foreign banks. The main approaches of banks are as follows:
Strategic Business Unit (SBU) Approach,
Integrated Approach (part of the overall business plan), and
Read Also:- retail banking caiib
Public Sector Banks:  In India, PSBs (in general) have adopted the Departmental Approach as their retail banking business model. In this model, the business for retail banking has been built as a part of the overall business plan & not conducted as a separate departmental activity, leave alone SBUs.
Private Sector Banks: While in new generation private sector banks have very clear the business model. They have had set up Strategic Business Units (SBUs) to have clear focus & business objectives.
The set up as a SBU by Private Sector Banks is more of a Management by Objectives (MBO) process. Herein the business model is taken as a modular strategy for achieving targeted profits with a provision to knockdown the module, if the retail plans do not get translated as per the set objectives.
Structure of Retail Banking Models: Banks generally structure their retail banking models mainly on a positioning platform while foreign banks generally do not go by positioning objectives but purely on business objectives.
Important Topic:- CAIIB 2024 STUDY MATERIAL 
Hopefully, CAIIB Retail Banking Short Notes above will help you in your preparations of the subject. We will be publishing the 2nd part of Retail Banking Caiib Notes (pdf) soon. You can follow us for finance related updates on our Instagram handle!
You may also be interested in:

CAIIB BFM SYLLABUS PRIORITY

BFM Priority

How to Prepare for CAIIB – BFM

BFM preparation

CAIIB Advanced Bank Management – IT Short Notes Part 1

Notes-1

CAIIB Advanced Bank Management – IT Short Notes Part 2

Notes-2

How to Clear CAIIB in One Attempt?

Clear Attempt

CAIIB Risk Management Pattern, Passing Criteria

Pattern

What next after CAIIB?

IIBF Certifications

CAIIB BFM Previous Year Question Papers (Bank Finance Management) PDF

Link

CAIIB Retail Banking Previous Year Question Papers PDF

Link

CAIIB Information Technology Previous Year Question Papers PDF

Link

CAIIB – BFM- Time Value of Money

Time Value

Letter of Credit Calculations

Calculation

s
Read Also:- DIGITAL BANKING IN RETAIL BANKING
CONTACT US
For any query or for best offers on the CAIIB or other Certification Exams, message us:
Whatsapp: 8360944207
For Exam Materials visit: iibf.info
You can also join us on
All the Best for your Exams!
Team: Learning Sessions
Also Like: