CAIIB FREE MOCK TESTS | CAIIB TEST SERIES 2022 @Rs. 1/- ONLY | 2022 FREE MOCK TESTS OF CAIIB
This is very good news for the CAIIB candidates I believe. Mock CAIIB in just Rs. 1/-? Shocking right?
But here we are giving an opportunity to buy the CAIIB 2022 Mock Test Pack which will contain questions of all the exams of Certified Associate in Banking and Finance i.e ABM, BFM & Retail Banking for just Rs.1.00
This is the most inexpensive offer which you must not have seen anywhere else! You can't tell us that today that you can get something like this at this price, when it is difficult to find even a toffee worth eating, you will be getting one set of Mock Test containing MCQs of the mentioned 3 papers of CAIIB.
It is without any doubt the cheapest, most affordable MCQ pack of CAIIB available in any online coaching institute! Anyone who has access to the internet can avail it!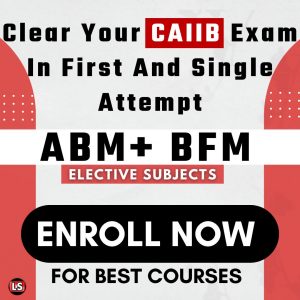 VISIT ALSO->> IIBF CAIIB NOV LATEST SYLLABUS 2022 AND CLASSES/SESSION SCHEDULED FOR NOVEMBER 2022 EXAMS
ONLINE MOCK TESTS OF CAIIB @ RS.1/- ONLY
Now, here is from where & how you can buy this Mock Tests of CAIIB for nothing but Rs.1.00!
To Access the Rs.1 CAIIB Mock Test pack you need to follow the below steps:
FOR WEBSITE VERSION: 
If you want to get the tests through your browser, then follow the below steps:
First, visit this link:

Classplusapp Web

Create your account by

logging in

:

For Ord Code: gegkt & enter your Mobile No.

You will get an OTP at your entered mobile no. which you need to enter in the required field.

You will be taken to the batch section page which will be blank because you don't have any current pack.
Go/Click on the

STORE

section/tab

Select the

CAIIB ₹1 OFFER

from the listed packs. For easy navigation you can even filter it out by 'CAIIB'

Then, on the new page, you will be asked to

select your state

of residence. (You can also set it to default for future use)

Click on the

Buy Now for ₹1.00/-

You will see a

pop-up window,

where you will be asked for your

email ID

. Fill your active email ID & click on

PROCEED

You will get different options as to how you want to pay for this pack. The options for payment will be:
UPI-BHIM

Phone Pay-Wallet

UPI-PayTM

Pay using Cards

UPI-GOOGLE PAY

Net-Banking

Pay Later

QR Code
Then proceed to make the payment.
BUY CAIIB MOCK TESTS 2022 WITH MOBILE APPLICATION
You can also buy the CAIIB 2022 Rs. 1 mock test by downloading the application from the given links:
The application will itself detect the

OTP

 
After that you will be taken to the application's home page

Follow the same steps from Step No. 5 (website version) as given above to buy the pack
After your payment is successful for the CAIIB pack, it will be shown in the Content TAB in the Store Section.
Then you will have the CAIIB 2022 Mock Test which will contain 360 Questions:
120 Questions of ABM

120 Questions of BFM 

120 Questions of RETAIL BANKING
You will have 120 minutes to solve/answer the questions @Rs.1.00 only!
There are many more packs of 2022 CAIIB Study Materials which are available in the store section at the most reasonable prices such as:
CAIIB ABM, BFM & RETAIL BANKING Question Videos

CAIIB ABM | Live Recorded Ques Videos + Case Studies + EPDFs 

CAIIB BFM | Live Recorded Ques Videos + Case Studies + EPDFs 

CAIIB RETAIL BANKING | Live Recorded Ques Videos + Case Studies + EPDFs
PRACTICE & PASS CAIIB 2022 IN ONE ATTEMPT
As a candidate of CAIIB, you must already know the benefits of passing it! Having 2 increments in advance (in case of Clerk) & 1 increments (in case of Officer) is nothing short of an opportunity, especially for the bankers at the clerk level!
So, it's important for every CAIIB candidate who is preparing for the 2022 CAIIB Exam in the upcoming June to practice the questions from the CAIIB 2022 Syllabus. This is also important for the Syllabus which is currently applicable and might change from December 2022 onwards.
So, what better way than to practice for the Certified Associates Exam by paying the cheapest price in the market? Almost free?
Note: No specific notification regarding the applicability of the New CAIIB Syllabus has been issued by IIBF so far.
CAIIB EXAM JUNE 2022 | IMPORTANT DATES OF JUNE CAIIB 2022
JUNE CAIIB EXAMINATION DATES
NOTIFIED DATES

CAIIB-ABM-Advanced Bank Management 

26-06-2022

CAIIB-AFM-Bank Financial Management

03-07-2022

CAIIB ELECTIVE PAPERS-

Rural Banking

Retail Banking

Risk Management

Central Banking 

Human Resources Management

Information Technology

09-07-2022
CAIIB REGISTRATION DATES 2022
If you haven't registered for the June 2022 attempt of CAIIB, then you need to go & register for the June CAIIB Examination right away. You can check out the following table to know the dates & the fees & extra charges if you register late for the exam!
MAY/JUNE CAIIB REGISTRATION DATES 2022
CAIIB – EXAMINATION
REGISTRATION START & END DATE
EXAMINATION FEES
CAIIB | ABM | BFM | RETAIL BANKING & OTHER ELECTIVE PAPERS FOR 2022 JUNE

27-04-2022 to 03-05-2022

Normal fees

04-05-2020 to 10-05-2022

Normal fees + Rs.100.00

11-05-2022 to 17-05-2022

Normal fees + Rs.200.00
CAIIB JUNE 2022 EXAM ELIGIBILITY
Before you register for the CAIIB exam, you need to check whether you are even eligible to write the exam. For that purpose, we are giving you an overview of the eligibility criteria for the CAIIB June 2022 Examination.
Cleared

JAIIB

.

Your subscription is not in arrears.
HOW TO APPLY FOR JUNE CAIIB 2022 EXAM?
CAIIB Candidates can apply within the notified dates of registration for the June CAIIB exam. You can follow the below steps to register for the June Attempt of 2022:
Visit the official IIBF web@

iibf.org.in

 & click

'flagship courses'

U/Examination/courses option.

Select CAIIB exam 2022 & then click on '

Apply online'

.

Fill in the IIBF CAIIB online application form

. You will be asked for personal and educational details & mode, medium, center & workplace among other things.

Read the instructions to accept them afterwards.

Preview & then click on 'Accept and Submit'

 the

CAIIB form

for further steps.

Select

the online payment method & pay the

prescribed CAIIB Course Fee

.
After you have completed all the above steps, you will also get the registration & payment details on your registered cell no. when your CAIIB registration is successful.
2022 CAIIB JUNE EXAM PATTERN
You can find the exam pattern of the CAIIB JUNE Exams from below which is given/explained below:
CAIIB Examination June 2022 Duration:

ABM

BFM

Retail Banking/ other electives 

2 hours

2 hours

2 hours

No. of Questions in following papers:

ABM

BFM

Retail Banking/ other electives

100 MCQs – 100 marks

100 MCQs – 100 marks

100 MCQs – 100 marks

Questions will test:

Conceptual grasp

Case analysis

Analytical/ logical exposition

Knowledge testing 

Problem-solving

Negative marking for Incorrect answers

No

Mode of CAIIB 2022 Exam

Online
CAIIB 2022 SYLLABUS FOR JUNE ATTEMPT
You can read the full syllabus of June 2022 CAIIB by clicking on the link here.
| | |
| --- | --- |
| 2022 June ABM Syllabus | ABM |
| 2022 June BFM Syllabus | BFM |
| 2022 June RETAIL BANKING Syllabus | RETAIL BANKING  |
CAIIB STUDY MATERIAL 2022 JUNE
You can easily check out the study material provided by Learning Sessions. Learning Sessions are trusted by more than 125000 candidates till date for their JAIIB, CAIIB as well as Other Exams which are conducted by IIBF.
Our success percentage is around 87-89% approx. Therefore, candidates have trusted us to help them provide quality material to help them clear their CAIIB Exams so far.
You have the option to choose from the following materials:
CAIIB ABM – Video Lectures

CAIIB BFM – Video Lectures

CAIIB Retail Banking – Video Lectures

CAIIB ABM | Retail Banking | BFM Combo Video Lectures

CAIIB ABM 2022 – Mock Tests

CAIIB BFM 2022 – Mock Tests

CAIIB Retail Banking 2022 – Mock Tests

CAIIB ABM | Retail Banking | BFM Combo Mock Tests
The material has been prepared as per the IIBF prescribed syllabus for the CAIIB 2022 EXAM for the June attempt. These lectures will cover the case studies also. These materials can be accessed online if you have access to the internet either through a laptop/computer (via web version) or tablet or mobile device (both iOS & Android).
DEMO CAIIB LECTURES FROM LEARNING SESSIONS:
You can watch the demo lectures by clicking on the following links of YouTube, if you want to attend some demo lectures:
You may also visit:
Also Like: